Another fashion week season has come and gone. 10 fashion shows in total, so that comes to about 660 makeup brushes, 99 pairs of false lashes and 224 models. As always, I enjoyed all of them and, the last run of shows that I directed makeup for were Venexiana, Elise Overland, Timo Weiland, Kaelen, Maisonette 1977 and GUiSHEM by Guillermo Jop.
The scene backstage was a flurry of models, makeup artists, PR girls, photographers, and more. Models were rushing to and from shows all while having makeup applied and taken off as many times as wardrobe changes. For a little skin R and R, I always prepped with loads of Napoleon Complex Skin Renewal Serum and Auto Pilot Pre-Foundation Skin Primer to keep skin nourished and hydrated with ingredients like tri-peptides and yarrow extract. This is a great backstage tip that's as important off the runway as it is on it. I applied generous amounts of both to ensure that makeup looked superbly fresh and crisp every time. On the subject of fresh beauty, one trend that really stood out to me was the full and natural brow. Shows like Timo Weiland and Venexiana commanded the gorgeous Brooke Shields look which has solidified itself as a beauty trend that's here to stay. To replicate from home, here's the beauty scoop on Venexiana, Elise Overland and Timo Weiland.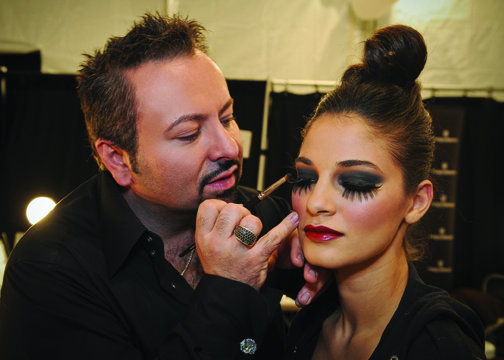 Backstage at Venexiana with model, photo by Kristen Somody Whalen
Venexiana: Ever since meeting Kati Stern three seasons ago when I began directing makeup for the brilliant designer of Venexiana, I've been smitten by her collections. Kati's designs always deliver that luxurious Northern European glamour, and I wanted to accentuate that with an expensive and lavish makeup look. The focus was on lush faux lashes, so I placed strips of lashes on the top and bottom lash line and painted the eyes black. For a step-by-step lesson on acing the faux lashes application, read my lash tutorial. I then paired the dramatic eyes with matte skin and a deep Bordeaux-colored lip. To get this rich lip look, I applied Lip Pencil in Hot Mocha and then lathered the lips in DeVine Goddess in Aphrodite with a lip pencil. The result? A spectacular runway look.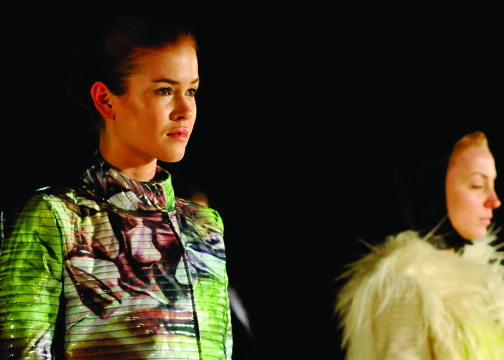 Model on the ice at Elise Overland, photo by Kristen Somody Whalen
Elise Overland: The theme was an ethereal winter playground at Elise Overland, as it was presented on an ice rink at the Standard Hotel. To help create this Icelandic winter playground, the makeup was all about luminous skin and cool undertones to give models that frosty glow, but steering clear of that frost bitten look. I used cool undertones like pinks on the lips and cheeks for that effect. I also relied on my Light Patrol Luminizer Palette particularly the silver shade to highlight. I finished the look with a swipe of DeVine Goddess Lipstick in Electra.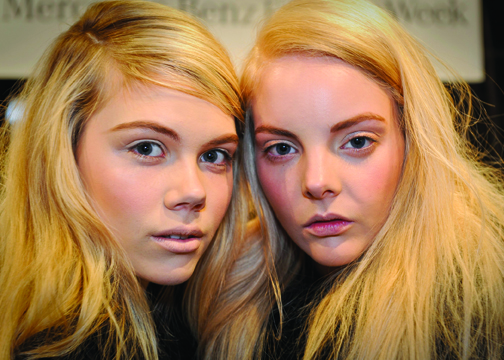 Powerful brows at Timo Weiland, photo by Kristen Somody Whalen
Timo Weiland: Young designer Timo Weiland and his design partner, Alan Eckstein, were very much influenced by a modernized Indian princess meets Gloria Vanderbilt for their fall 2011 collection. I complemented their inspiration with strong brows, matte skin and contoured cheekbones. For the eyes, I used a beige liner for that crisp liquid line to lift the eyes. My latest wonder product Ultimate Contour Palette was truly a godsend this fashion week and it allowed me to contour and sculpt each face to perfection. Look out for it when it launches this summer to get those supermodel cheekbones.
SUBSCRIBE TO & FOLLOW LIFESTYLE
HuffPost Lifestyle is a daily newsletter that will make you happier and healthier — one email at a time. Learn more