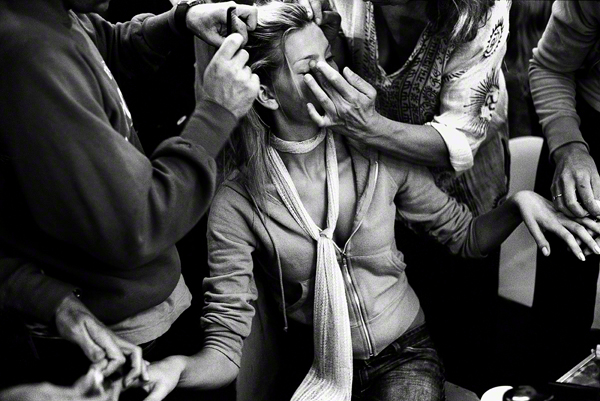 Photo courtesy of the Annenburg Foundation © 2002 Felicia Webb. Backstage at Paul Smith.
What exactly is beauty? It's impossible to define in any succinct way; beauty means different things to different people, cultures and eras. My friend and editor-in-chief of Vogue Australia, Kirstie Clements, is constantly pushing and redefining the notion of beauty. To me, it's Vogue's unofficial MO. Kirstie introduced me to the concept of "beautifully grotesque," a term coined in what has become one of my favourite coffee table tomes, Extreme Beauty in Vogue (Skira), which looks at some more challenging notions. It came to mind as I visited the Annenberg Space for Photography in Los Angeles last weekend to see the Beauty CULTure exhibit (catch it before November 27).
The exhibition showcases the work of over 100 photographers and explores the expression of beauty, from the celebratory to the borderline disturbing. Controversial yet beautiful, provocative but polished, different lenses captured different interpretations. To me, this carefully curated collection of work is a true celebration of diversity. I loved the emotion behind a Chuck Close image or the extraordinary imagination seen in David LaChapelle's work. One photo that spoke to me was the image of a model backstage at a Paul Smith show. She's literally being pulled and primped by an army of hairstylists and makeup artists, and it really captured that organized chaos of the beautification process that those of us on the other side of the camera know all too well. But as I walked through the exhibition, it struck me how the notion of beauty has evolved through time -- from the days of Marilyn Monroe and screen-star pin ups to the often extreme ideals fuelled by cosmetic surgery.
In my 20 years as a makeup artist, I've made up thousands of faces, including actresses, models, singers, and a virtual army of real women. And living in LA these days, I am lucky enough to witness the full spectrum of beauty on a daily basis: from the casual Californian take, to more exotic ethnic ideals, right through to the pursuit of plastic not-so-fantastic. Anything goes. And I think that's worth celebrating.
SUBSCRIBE TO & FOLLOW LIFESTYLE
HuffPost Lifestyle is a daily newsletter that will make you happier and healthier — one email at a time. Learn more