It has been a year of milestones for me: 15 years since I launched my makeup brand in a jewel box store in Sydney, Australia; five years since I set up shop in the U.S.; and 40 years since my first birthday. So many landmark anniversaries make one feel, well, withered. I've long extolled the virtues of using concealer, foundation and bronzer to resculpt your face without having to go under a knife, and I've practiced those techniques on myself. But lately, as I gaze in the mirror and see lines, age spots and drooping jowls reflected back at me, I've turned to fillers to counter the effects of gravity. I don't see my actions as being incompatible to my makeup beliefs. In fact, I see makeup and injectables working harmoniously together.
In the intervening years, some of my customers have aged along with me. At public appearances, women whose makeup I first did 10 years ago reintroduce themselves. So many of my clients inquire about using fillers in conjunction with makeup that, next month, we're hosting a seminar on the subject at my Makeup Academy in Los Angeles. The key speaker will be Dr. Alan Szeftel, MD of Ocean Cosmetic Medicine and an Associate Clinical Professor at the School of Medicine at UCLA, and my sherpa to looking younger. When I told a reporter from Australian Associated Press recently that women might well consider using injectables at a younger age, it caused a storm in a tea cup in my homeland. Yet I would never recommend a procedure I didn't observe myself, and everyone has the right to navigate their own path to radiance.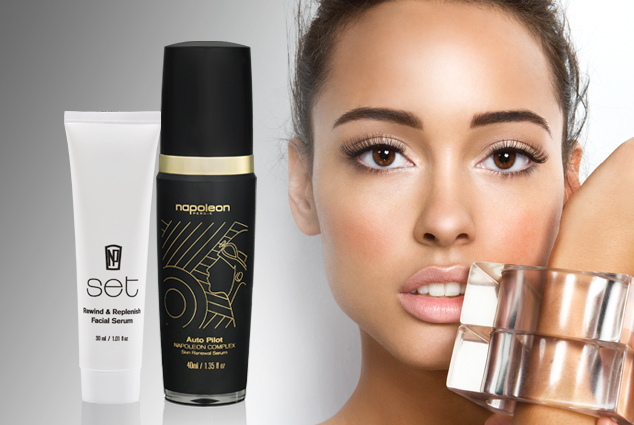 Hello Glow: Two new skincare elixirs from Napoleon Perdis and a radiant looking model from his campaign shoot.
The secret to having a luminous complexion lies in perfecting your base. While I'm know for my primers, earlier this year we released Napoleon Complex, a high-tech serum made in Switzerland that addresses the visible signs of aging. The serum is rich with natural tri-peptides, sodium hyaluronate and a blend of Australian berry extracts, and I've been using it religiously. In vivo and in vitro tests show that, after continuous use, skin becomes smoother and wrinkles less visible. This fall I'm also releasing an elixir as part of my NP Set collection at Target. With rare flowers and Hyssop Extract cultivated in the Swiss Alps, my Rewind and Replenish Facial Serum boosts skin suppleness, and protects against environmental pollutants. When I introduced the latter to New York beauty editors last month, they all cooed with delight.
Everyone, it seems, has gone serum mad. I read with interest in Women's Wear Daily that a host of new skincare products on the market now claim to mimic the effects of lasers and Botox in a bottle. We, too, are developing a sensational new eye cream, and I'm in the midst of testing the various iterations. It's not uncommon for a staff member to be applying a version in the middle of one of our meetings. Yet once we arrive at our fourth decade -- as I have -- many of us require a little more effort to get that lit-from-within glow. I've discovered that little cosmetic tweaks can actually assist in your makeup application. No matter how skilled the artist, there are issues that no amount of makeup can cure, like the lines around your mouth.
Hyaluronic acid fillers including Restylane and Juvederm can plump cheeks, correct the hollows that form at the bottom of the eyes, and rescue the area between the nose and the cheeks. "It's called the tear trough, and it often sags, reflects light poorly and looks dark," says Dr. Szeftel. "Small amounts of filler in that area can help reduce the amount of concealer and camouflage that you have to use for shadowing, and makes it much easier to get a full cheek look." When it comes to lips, Dr. Szeftel dispenses small amounts of Botox around the pout to help relax muscles. "You may even use filler in the top margin of the lips to smooth them out," he says. This creates fuller lips and reduces the likelihood of your favorite lipstick bleeding.
A downturned mouth can become more pronounced as we age. You could try concealer dabbed on the corners of your pout, something makeup artists have done for years, but small injections of Botox at the chin and jaw are more likely to address the issue of looking permanently irate. "To get rid of that depressed droopy look, whether it be the brows, the cheeks, the jowls, or the corners of the mouth--that's where Botox and fillers are very helpful and complementary in terms of restoring those facial features that were present five to ten years before," says Dr. Szeftel. I say do what makes you feel -- and look -- happy.
Follow Napoleon Perdis on Twitter: www.twitter.com/NapoleonPerdis