Few people go against convention and actually succeed. Aaron Schock is one of them. The indefatigable, 29-year-old Republican Congressman from Illinois challenged the Peoria school board at age 19 when they wouldn't let him graduate early because of a lacking gym class credit. And he won. Four years later he was elected the youngest school board president in history.
"I believe in challenging conventional wisdom and thinking big. In the U.S. with great ideas, determination and hard work you can do anything regardless of age. If I sat around 'waiting for my turn' I may still be working in a gravel pit."
Schock is a new breed of pol: young, humble, focused and apparently abtastic, as TMZ excitedly reported last year. He called me between votes on a frenetic day in Congress and in a slight Midwestern lilt that only a fellow Illinoisan could detect described what he admired in young people today.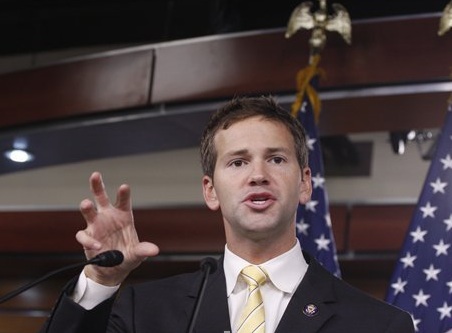 Rep. Aaron Schock, Credit: Associated Press

"There is a young Filipino boxer named Manny Pacquiao. He's an 8-division world champion and just a total star in the Philippines, they hold parades for this guy. He's a multimillionaire and would be successful just boxing for the rest of his life, but he felt compelled to do something for his country so he ran for office. At first no one believed he was serious because he was so young. To prove his conviction he went door to door in the district and eventually won. That's the kind of passion I admire. And I see that energy and willingness to go against convention in many young people in this country."
When I mention that this story reminds me a lot of Schock's own assent, he demurs, pointing to hard work and being "too stupid to realize he might fail" as the key to his success. Amazingly, for all of his prodigious accomplishments -- being the youngest member to be elected to the Illinois House of Representatives, the youngest member of the U.S. Congress, remarkable fundraising capabilities, and most recently being appointed to the powerful House Ways and Means Committee -- it hasn't gotten to his head. Schock was one of the most polite, attentive and just plain nice politicians I've encountered.
Natalia Brzezinski: A lot of young people lose their heads when they achieve success and power early in life, how do you remain so grounded?
Rep. Aaron Schock: I've gone home almost every weekend since I was elected just to stay normal. When you're a politician someone always wants something from you so they're constantly telling you how smart or great you are, and that can warp people! Exercising humility is important to me. My friends back home treat me like the same person I was when I was waiting tables. I also know that to stay focused on what's relevant to my district I need to spend as much time outside of Washington, D.C., as possible.
Another uber-successful Millennial, 26-year-old Mark Zuckerberg was just named Time magazine's Person of the Year. What kind of statement does that make about the effect young people are having on the broader national conversation
Above all it says something great about America. Here's a college kid who had a unique idea and was able to pursue it. He developed an open forum for dialogue and relationships, and his website now hosts more people than any single president or prime minister governs over in the world. He has amassed more wealth than many small countries can boast in their GDP. If he was in Russia or China, it may not have happened.
You're obviously someone who has been able to identify early on what you're good at and go for it. What advice do you have for 20-somethings today, many of whom may be having trouble finding a job or focusing on a career path?
Each year I host a leadership summit in my district and my biggest advice to young people is get experience. Get your foot in the door. If anyone had studied my bio sheet when I was running for Congress they would've thought I was schizophrenic! I'm not from a political family and didn't grow up dreaming of being George Washington. I started working in 8th grade and have held every odd job possible -- working in a gravel pit, weighing big wheelers, ticket sales, data base management -- but I knew if I worked hard and got experience I could apply that experience to my next endeavor.
Some say that "the era of job security is over," and that Millennials will be living in a very different professional reality where they may never have a stable job or do as well as their parents did, do you think that's true?
I think to a certain extent yes because the American workplace is becoming more dynamic with more employers. Young people also have a different view of professional success. I don't have many friends whose goal is to find a great company and then work there for the next 40 years. They want to find a great professional home where they can grow and then move on to another challenge better and stronger.
Most of your colleagues have at least 20 years on you. Has transitioning to Congress been difficult?
It's truly an awesome place to work. My colleagues on both sides have been very helpful; they look at me as a son, or sometimes a grandson. It can be a very familial atmosphere despite the bickering you see on TV right now. The more surprising thing to me was the formality. I had to get used to showing up with my staff at congressional luncheons and everyone eating and talking but them. They'd be sitting against the wall behind us, taking notes silently.
Our own Arianna Huffington was quoted in a book review saying that Millennials exhibit a "readiness to abandon the partisan wars we've been fighting for too long." Do you think we're the first post-partisan generation?
When I campaign with seniors, it's always "are you a Democrat or Republican?" But when I campaign on college campuses, they ask me where I stand on specific issues. I think Millennials are much less interested in conventional labels. One thing that's universal among Millennials is a distinct frustration with Washington, D.C. Both in 2008 and in the 2010 midterms, 20-somethings sent politicians a message: You guys need to work together or get out.
Do you have a pet project or political passion?
My number one focus is promoting jobs and economic growth. I think sometimes we have a communications problem in this country. The president passes a trade agreement with South Korea, and that's good! But people see it as stealing away their jobs. I'd like to take a leadership role in explaining trade policy so people can see that if we cut ourselves off from the other 95 percent of the world economy we'll be hurting even more.
Where do you see yourself in five years?
People always ask that, but it's usually 10 years. And I say, well 10 years ago I was in high school! Honestly, I believe in keeping my head down and working hard at what I've been given. I love what I'm doing and if the people of my district give me another opportunity in two years to keep doing it, I will.
This profile is the third in a series, called "Millennial Perspectives." Read the first profile with U.S. Olympic Gold medalist and Dancing with the Stars finalist, Evan Lysacek. Read the second profile with Washington Post blogger and MSNBC commentator Ezra Klein here.
FOLLOW HUFFPOST