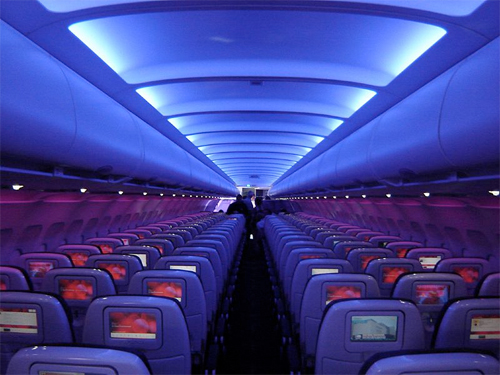 Have you ever flown Virgin before? Up until a month ago, I guess you could say I was a Virgin virgin. I mean, obviously I knew the airline existed and I was somewhat familiar with it since everything Sir Richard Branson does is newsworthy, but I'd never actually traveled with them before. Launched in 2007, the San Francisco-based airline has recently started servicing Toronto, offering flights to Los Angeles and San Francisco. So when I finalized my plans to visit LA in October, I was excited to fly with Virgin America.
What's so cool about Virgin America, anyway?
What is it about Virgin America that makes it so cool? Is it the really friendly greeting I'm met with at Toronto's Pearson airport from both the ticket agent and the pilot who's just arrived? Or is it literally just the hazy purple lights that greet you as you step on the plane? Maybe it's the clubby, dance-trance music that's pumping just loud enough to put a swivel in your hips as you walk down the runway. I mean aisle.
Boarding the plane, I feel like I'm entering -- well, not a plane. Not a club. But something sort of in between. Someplace cool. I really think I'm just mesmerized by the purple mood lighting.
It's kind of like a club, especially if you count the hot guy who spends the first half of the five-hour flight chatting me up. Except that he's eating a banana, not nursing a scotch. And I'm not exactly dressed like I'm heading out to get my groove on. But you know, there's a vibe on the plane and looking around, I can see that I'm not the only one sharing what suddenly feels like a furtive conversation under the cover of darkness.
I finally tell my new friend I've got work to do (which is totally true -- and possible since Virgin offers WiFi -- more on that in a moment) and politely terminate our chat. He's a nice guy but I sense that he's about to ask me for my phone number or something so I put the conversation on lockdown.
As I start up my laptop, excited about getting online while in-flight (again, a first for me), I'm trying to figure out why this feels so much more fun than most planes I've been on. The white leather seats are definitely chic and comfy. And did I mention the purple lights? Maybe it's that the flight attendants are all really young and fun, though that can probably be said about many airlines. Anyway, there's just a youthful, modern vibe that I'm totally digging.
In-flight internet and entertainment
I use Gogo in-flight service to access the Internet 35,000 feet up in the air. Cool! There are several different packages to choose from, depending on how much online time you need but they range in price from $9.95 to $39.95; you can choose from a 24-hour pass to unlimited surfing for frequent fliers. While there are lots of live TV channels and on-demand movies to choose from on the plane, I love that I can get online with Gogo because it means I can watch whatever TV I want online, I can do a bit of work, check my email and update my Facebook status to let all my friends know I'm in the air! I catch up on a few episodes of Grey's Anatomy but when I tire of that, I switch back to live TV. I watch the Chilean miners being rescued on CNN as it happens -- moments I'm glad to witness live.
There's no meal service on my flight but passengers can order snacks from their seats. Just touch the screen in front of you, browse your options and order. I like the convenience of it all.
Flying home from LA on a red eye a few days later, I can't help but notice how modern, clean and stylish the Virgin America gates are at LAX. From start to finish, my experience was pleasant, fun even. Virgin doesn't have a monopoly on good service or anything. I've had plenty of great flights with other airlines, complete with fab flight attendants and comfy seats. But I've also had my fare share of travel experiences that have left a bad taste and a few swear words in my mouth. Not the case with Virgin America. It was a great experience from beginning to end.
Want to check it out for yourself? Currently, Virgin America flies to San Francisco, Los Angeles, New York, Washington D.C., Seattle, Las Vegas, San Diego, Boston, Fort Lauderdale, Toronto and Orlando. The airline will begin servicing Dallas-Fort Worth on December 1, 2010, Los Cabos on December 16, 2010 and Cancun on January 19, 2011.

SUBSCRIBE AND FOLLOW
Get top stories and blog posts emailed to me each day. Newsletters may offer personalized content or advertisements.
Learn more