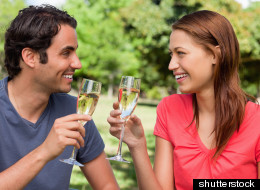 While unmarried men over the age of, say, 40, aren't looked upon with pity -- as some single women archaically still are -- maybe they should be, suggests a report from WABC in New York on Thursday.
According to the local station, men who've avoided settling down may be less desirable to women than those who have already taken the marital plunge -- then divorced.
I'm typically wary of sweeping generalizations, especially when it comes to telling women what kind of man they should be dating. Though, given how prevalent and accepted divorce is, it makes sense that women today may be less inclined to see a man's previous relationship as cause for concern -- or get turned off by the idea of him having too much "baggage."
In fact, they might even see some perks to dating a divorced man, as 30-year-old Melanie Berliet, who was quoted by ABC News, has experienced firsthand. The divorced man she is currently dating has "learned from mistakes," she says.
Los Angeles-based dating coach Lauren Frances agrees that this is one of the upsides to dating man who has already been married. "Dating a divorcé is like dating a self-walking dog," she says. "There's a kind of sharing that people who have been married have learned how to do, that a serial monogamist or a guy who is chronically single won't learn."
In my opinion, a previously married man certainly has two key qualities that many women look for in their future husband: 1) previous desirability as a marital partner, and 2) a proven capacity for commitment.
"With men over 35 who have never been married, there tends to be more incidence of both commitment issues and other psychological complications that will make it difficult for that man to have or sustain a marriage," says New York-based psychotherapist Michael Batshaw. "Conversely, men who are divorced after 35, were married for some time and seem interested in a long-term relationship are a much better risk as a future husband."
However, Batshaw notes that "there are always outliers." So, while ABC's story asks a catchy question-- Is divorced the new single? -- the argument that a divorcé is a more suitable potential partner than an eternal bachelor isn't so black and white.
There might actually be a significant downside to dating a divorced man, according to Frances: They often don't want to remarry. "They have been in situations in which they have lost a lot of their net worth and are reticent to put themselves in that situation again."
Take actor George Clooney. He's often labeled as a never-to-be-tamed bachelor, but he's actually one of these supposedly desirable divorcés. (He was married to actress Talia Balsam -- who now plays Mona Sterling on "Mad Men" -- from 1989 to 1993. Balsam is now married to actor John Slattery.)
Clooney, while clearly capable of commitment, has in fact vowed to never marry again -- and, so far, he's made good on that promise.
Along with a potential aversion to marry again, there are other drawbacks to dating a divorced man that women should consider.
"Men with children from a first marriage usually don't want more children," Frances says. They can feel really guilty for putting their children through a divorce and "they don't want their children from their first families to feel unwanted." She advises women who want marriage and children to be clear about their romantic goals within the first one or two dates to avoid investing their time -- and their hearts -- in men who don't share their goals.
According to Frances, pitting two types of men against each other based on their life experiences isn't necessarily all that helpful to women, either. "All of this information has to be read with a grain of salt," she says. "There are some universal principles that most people kind of fall into and there are always aberrations and there are always people who are in the fringe who don't behave according to type."
Instead, women need to look at each potential partner on an individual basis, Batshaw says. "Whether he is single or divorced is only one of many criteria that ultimately should be used to determine whether he has the right character traits for a future husband."

Allison Pescosolido, M.A., and Andra Brosh, PhD, founders of Divorce Detox, a full-service center and program for separation and divorce, said via e-mail: "An ideal partner, single or divorced, is a mature adult that has taken the time to become a complete, well-rounded individual," they say. "Divorced men have the benefit of gaining relationship experience that can help them in the future. Single men who have overcome hardships are preferable to single men with little life experience."
Ultimately, Frances believes that, while potential partners can be categorized in many ways, from her experience there are really only two kinds of men in the world: "those who get pleasure and self-esteem from making women happy and those who get pleasure and self-esteem from making themselves happy."
Women who find the former, she says, will be happy for life -- no matter what the guy's previous life experience was.
Click through the slideshow below to see celebs who bounced back better than ever post-divorce.
Martha Stewart was originally a stock broker before she and her now ex-husband, Andrew Stewart, decided to move to Connecticut to restore an 1805 farmhouse. There, she started a successful catering business that garnered her a cookbook deal; her first book, "Entertaining" became a New York Times bestseller. She penned multiple books including "Martha Stewart's Quick Cook" (1983), "Martha Stewart's Hors D'oeuvres" (1984), and "Weddings" (1987), before she and her husband split in 1989. One year after her divorce, she created a magazine, Martha Stewart Living, for which she served as editor-in-chief. She rapidly expanded to radio and television, prompting New York Magazine to name her "the definitive American woman of our time" in 1995. Two years later, she launched Martha Stewart Living Omnimedia, a consolidation of the various television, print, and merchandising ventures related to the Martha Stewart brand. Sure, being incarcerated in 2005 for securities fraud wasn't a high point, but she launched a comeback upon her release and created the Emmy-nominated daytime talk show, "The Martha Stewart Show."

Kathryn Joosten quit her job as a nurse to be a housewife after marrying her psychiatrist husband. Two kids and ten years later, she was divorced and struggling to pay the bills. At the age of 42, Joosten discovered her love of acting in a local theater production in Chicago, and subsequently moved to Los Angeles to pursue her newfound passion. Several years later, she landed a recurring role on "The West Wing", followed by a starring role on "Desperate Housewives", for which she has won two Emmys.

Harrison Ford quit his small-time acting job to become a professional carpenter in the early 1970s, in order to support his first wife--Mary Marquardt--and their two young children. In a twist of fate, he was hired by George Lucas--then a little-known producer--to build cabinets in Lucas' home. Lucas offered Ford a small role in his film "American Graffiti", and continued to employ him as a carpenter as he expanded to a larger office. In 1975, Lucas hired Ford to read lines for absent actors auditioning for "Star Wars"; his convincing portrayal won over director Stephen Spielberg, who cast him as Hans Solo--the lead role. Shortly following "Star Wars" release, Ford divorced his first wife and went on to become one of the highest-paid actors in Hollywood, with starring roles in dozens of movies.

Nora Ephron's widely publicized divorce from Carl Bernstein in 1980 inspired "Heartburn", an autobiographical novel that was turned into the 1986 film starring Jack Nicholson and Meryl Streep. Since the split--Ephron's second--she has written over a dozen books and screenplays, including Oscar-nominated films "Silkwood", "When Harry Met Sally", and "Sleepless in Seattle". In her latest book, "I Remember Nothing", Ephron writes about her reflections on life, including divorce.

Jennifer Lopez's first marriage to Ojani Noa in 1997 lasted a little less than a year, but that hasn't stopped the waiter-turned actor from trying to cash in on her success. Since her first album, "On The 6", debuted in 1999, Lopez has been a Billboard mainstay, selling over 55 million records worldwide and garnering six music award nominations. She has also starred in several films and launched a fashion line, in addition to serving on the judging panel for "American Idol." Noa has sued Lopez multiple times since their 1998 split, and has threatened to release unseen home video footage, including an alleged sex tape, the release of which Lopez blocked. She has since remarried -- and divorced -- twice, and is now in a relationship with back-up dancer Casper Smart.

Jack Nicholson's career took off after his 1968 divorce from Sandra Knight. He was nominated for his first Academy Award for 1969's "Easy Rider", and has since become the most nominated actor in history, with 12 Oscar nominations. Of the nearly 50 movies he has starred in since his split, 22 have won awards and multiple nominations, including "Terms of Endearment" (1983), "Batman" (1989), "As Good As It Gets" (1997), and "The Departed" (2006).

Annette Bening and her first husband, choreographer J. Steven White, separated after two years of marriage in 1986. She launched her acting career shortly thereafter, with roles in "The Great Outdoors" (1988), opposite Dan Aykroyd, and "Valmont" (1989), opposite Colin Firth. She received her first Academy Award nomination a year later, for Best Supporting Actress in her role as Myra Langtry in "The Grifters". From there, she went on to star in nearly 20 acclaimed films that garnered her three more Oscar nominations and two Golden Globe wins (for "Being Julia" (1994) and 2010's "The Kids Are All Right"). She is remarried to Warren Beatty, with whom she has four kids.

Denise Richards has emerged as the saner of Charlie Sheen's ex-wives, having avoided the drug troubles of Sheen's most recent ex, Brooke Mueller. Since their 2006 split, Richards has starred in her own reality show on E!, "Denise Richards: It's Complicated," in addition to a stint on "Dancing With The Stars". Richards has emerged as an animal rights activist in recent years as well; she is an ambassador for the Utah-based Best Friends Animal Society and regularly appears on TV and at events promoting animal adoption.
Follow Natasha Burton on Twitter: www.twitter.com/NatashaNBurton