It's a story San Franciscans know well. In Game Six of the 2002 World Series, the Giants were leading 5-0 at the bottom of the seventh inning, only for the Anaheim Angels to come back and defeat them in the final moments.
It's a story that was repeated on stage at a Barack Obama fundraiser on Tuesday night. Inside 'Mezzanine,' a warehouse-turned-trendy club in downtown San Francisco, the emcee warned the crowd of mostly young professionals not to let the current high of the Obama campaign produce a complacency that could cost them the election, the same way their home team lost the World Series. "Complete the task," he said.
Sen. Obama may have California in the bag, and nationwide polls show he's doing quite well, but all the speakers at this "Night of Unity" event reiterated the importance of not taking things for granted.
Under red and blue spotlights, San Francisco Mayor Gavin Newsom set the tone as the evening's first speaker, saying "polls do not vote. People vote." Newsom particularly encouraged young people to follow through with turning out on election day, since past elections have shown the youth vote to fall short of their promised enthusiasm when it came time to cast the ballot. With a captive audience in front of him, the mayor took the opportunity to urge volunteers to travel to nearby battleground states, instead of sitting idly in California.
One of the groups responsible for organizing the fundraiser was Filipinos for Obama, a grassroots organization that started in San Francisco and has now spread to 12 chapters across the United States. "It started as a conversation over lunch," said Katrina Romero, the field director for Filipinos for Obama.
Romero and Audrey Bangi, the group's media liaison, were two of a group of 15 volunteers with Filipinos for Obama who traveled to Reno, Nev., to register voters in mid-September. "It's the last sprint to the finish line," Romero said.
Bangi said that they targeted areas more heavily populated with Filipinos, particularly because Bush won Nevada in 2004 by 3 percent of the vote -- exactly the Filipino percentage of Nevada's population. "I met this grandmother coming out of a casino who had just won $450 and was on her way to mass," Bangi said. "And she had decided to vote for the first time in her life." This first-time voter supports Obama.
Romero found the trip to be eye opening. She said that she met plenty of Filipinos who had been there for decades, but had never been approached by political campaigns asking for their votes. Filipinos for Obama plans on making one more trip in the crucial weekend before Election Day, and this fundraiser will help subsidize travel costs. Romero said that the goal is to "keep the momentum going. As a field person, you can't become too confident. You don't know for sure until Nov. 5."
San Francisco District Attorney Kamala Harris also shared her out-of-state experience. Harris had just come back from Philadelphia, where she had seen various efforts to discourage first-time voters. She told the audience that she saw flyers stating, "if you are in a foreclosure, you can't vote," and flyers littering college campuses claiming that a college student's vote counted for only 45 percent. Other flyers claimed that by standing in line to vote on Election Day, one might be subject to drug testing.
"This race is not over," Harris said. "It is not going to be handed to us."
But with the precarious state of the economy, not all have the luxury to travel or volunteer. Sunshine Monastryal has been a passive supporter of Sen. Obama, and as a recent graduate who moved to the Bay Area from Washington state, would not have been able to come to the fundraiser if she had been required to contribute the original $50 minimum. In the final week of the event, organizers of the "Night of Unity" fundraiser allowed supporters to attend for free.
Still, Monastryal has family members who are volunteering actively. Her father, a retired military man in Washington, "supported John McCain in 2000," she said. "Now he thinks John McCain is a sell-out to say the least." She takes to heart her father's message that considering the candidates is not about history, referring to McCain's sacrifices in war, "it's about his ideas now."
Unlike the Monastryals, supporter Jacob Lehrbaum's family members are not in agreement. About McCain putting Gov. Palin on the ticket, Lerhbaum said, "What was he thinking?" But Lerhbaum's relatives really like Palin, which he said is due to their consensus on abortion. "They think of it as murder."
Lerhbaum said the fundraiser with speakers like Newsom, Harris, and Google Senior Vice President David Drummond was extremely important, not "just for the people there," who do not need to be told whom to support. "It's to inspire them to get the message out. The pyramid scheme works well."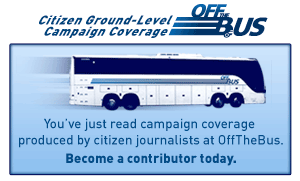 FOLLOW HUFFPOST