Everyone has their own ways of dealing with a tragedy such as yesterday's attacks on Boston, which left 3 dead and more than 140 injured. Some will respond with anger, some sadness, some with deference and determination to stand strong among the wreckage. Some will remain glued to CNN and Fox, others will shut it out and get on.
This is my way of dealing with it: writing and sharing experience. For everyone who lost a little faith in humanity yesterday, here are a few examples of strength among the darkness.
1. The Boston Globe has compiled this Google doc from Boston.com for people without a place to stay tonight. Over three thousand people have made their homes available.
Just a few snippets:
"Don't get stuck, just call me if you need anything at all."
"Food, pull out couch, love and support."
"We have a comfy couch and clean towels for anyone who needs it!"
" We are happy to pick you up, and help out anyway we can."
2. New York Times journalist Nicholas Kristof posted this to Facebook earlier.

3. Within just a few hours of the incident, Google established this people finder. There are 4600 records currently being tracked so loved ones that can't get through can try and find information or post it about those who were there.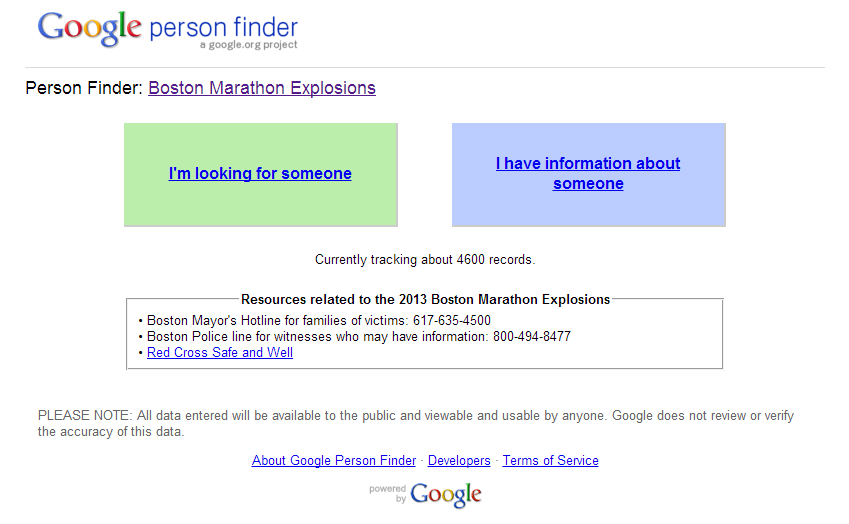 American Red Cross has also set up a Safe and Well page.
4. Red Cross tweeted earlier that they do not need any more blood donations as so many people have come forward to donate.
Due to the generosity of our donors we don't need blood at this time. Please schedule for a future donation redcrossblood.org #marathon

— RedCrossEasternMA (@RedCrossEastMA) April 15, 2013
5. This account of when Kathrine Switzer found herself about to be thrown out of the normally all-male Boston Marathon on April 19, 1967.
6. President Obama trying to restore some unity across politics.
"On days like this there are no Republicans or Democrats--we are Americans, united in concern for our fellow citizens." --President Obama

— Barack Obama (@BarackObama) April 15, 2013
7. George Takei's words of wisdom.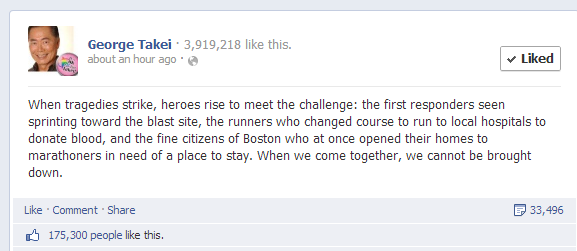 8. If you are losing faith in humanity -- go and watch a marathon. The London Marathon is happening this Saturday, with "absolutely no chance" of being cancelled, according to organisers.
If you are losing faith in human nature today, watch what happens in the aftermath of an attack on the Boston Marathon. The flood of donations crashed the Red Cross's Web site. The organization tweeted that its blood supplies are already full. People are lining up outside of Tufts Medical Center to try and help. Runners are already vowing to be at marathons in the coming weeks and months. This won't be the last time the squeakers run Boston. This won't be the last time we gather at the finish line to marvel how much more we can take than anyone ever thought possible.
SUBSCRIBE TO & FOLLOW THE MORNING EMAIL
Start your workday the right way with the news that matters most. Learn more