Yesterday, the Food and Drug Administration unveiled the graphic new warning labels for cigarettes aimed to illustrate a variety of health consequences related to tobacco use. Smoking is responsible for approximately 450,000 deaths a year, and the Surgeon Generals message is clear: "smoking kills".

Smoking not only kills but also results in foot and lower extremity limb loss due to Peripheral Arterial Disease (P.A.D.). The nine warnings DID NOT include any imagery indicating that smoking causes foot and lower limb amputations.
Smoking is the number one cause of P.A.D., according to the Peripheral Artery Disease Coalition. Peripheral Artery Disease develops when arteries become clogged, resulting in decreased blood flow to the legs and feet. This can result in the need for amputation. The U.S. Department of Health and Human Services indicates that "one in every 20 Americans over the age of 50 has P.A.D." and that "eight to 12 million people in the United States, especially those over 50" are affected.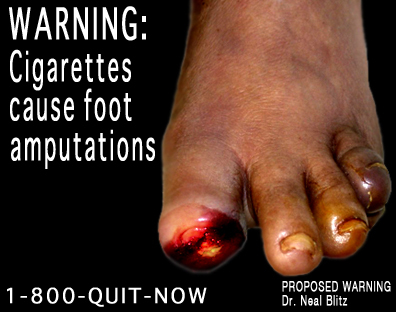 "Diabetes and vascular disease are the leading causes of limb loss and major drivers of increased limb loss incidence in the U.S.," according the Amputee Coalition, adding that "PAD is a common cause of amputation; 1 to 2 percent of all people with PAD will progress to major amputation." Furthermore they indicate that dysvascular disease results in 54 percent of limb loss amputations (approximately 92,000 amputation each year).
The risk of smoking related foot and limb amputation is real. So why not include this risk as a visual warning and part of this new strategy?
What do you think?
~ Dr. Neal M. Blitz
To learn more about Dr. Blitz, please visit www.nealblitz.com

Follow Neal M. Blitz, D.P.M., F.A.C.F.A.S. on Twitter: www.twitter.com/DrNealBlitz