THE BLOG
Raise Your Kids to Be Financially Independent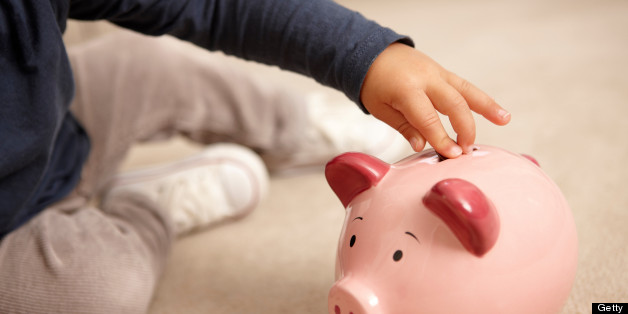 Getty
More than half of U.S. adults admit that they don't have a budget. One-third do not pay their bills on time. Thirty nine percent carry credit card debt over from month-to-month. Thirty nine percent have no non-retirement savings.
Our children must grow up to be more money savvy. But, since only 16 states require students to be tested on economics, and only four states require high school graduates to complete a one semester course in personal finance, the responsibility falls on the parents. In fact, 81 percent of parents recognize their responsibility. The bad news is that two in five American adults gave themselves a failing grade on their own knowledge of personal finance.
Begin From the Beginning
From the time our children are beginning to crawl we start teaching them about right and wrong, personal safety issues and our family values. Through the years we warn them about stranger-danger, and substance abuse. We try to set good examples for healthy eating and personal accountability. Unfortunately, many parents neglect to teach their children one of the most important survival skills they're going to need -- how to take care of themselves financially.
We are always teaching our kids about spending money, but this is setting them up for future failure. Kids are constantly exposed to the emphasis on buying power, but this comes at the expense of other important money skills that kids need to learn -- earning, saving and sharing.
Parents have to talk to their kids about money from a very early age as this is when good habits start to form. Make sure that your kids come into contact with money, learn where it comes from and understand how it is used. Encourage your kids to play "store" at home. Let them put coins in the parking meter. Let them swipe the debit card when you get groceries -- be sure to explain where the funds come from. Bring them to work with you. Bring them to the bank to open a savings account.
Start your kids on my Work-For-Pay Allowance System as early as age three. They do two types of chores: Citizen of the Household chores, where they don't get paid, and Work-For-Pay chores. Citizen of the Household chores teach them that good citizens of the world, the community and of the family, help out because it is the right thing to do. The Work-For-Pay Allowance System teaches them how to earn and budget their money. They will learn values and life skills that they'll need to live in the real world. These will become life-long habits.
As Your Child Grows, The Lessons Continue
You Can Do It
Keep in mind that the world around us is the best classroom --take advantage of it. Everyday lessons are the best way to teach our kids, and financial literacy is no exception. Remember that children learn by our examples, so set healthy ones. If you make a life-long commitment to your child's education maybe your child won't be one of the 85 percent of children that move back home with parents after graduating from college.
If you have a personal story of financial independence, please share it with us in the space provided.