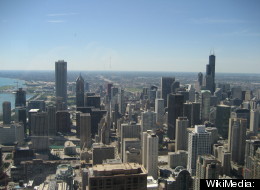 Neil Steinberg is the author of You Were Never In Chicago ($25, University of Chicago Press)
New York's a nice place to visit: museums, theater, that lady with the torch. But I wouldn't want to live there, not when Chicago is such a much better place to live. Why? That's easy. Here are the top 15 reasons:
15 Reasons Chicago Is Better Than New York
Chicago has 2.7 million residents living on 227 square miles, versus the five boroughs of New York, which pack 8.2 million people on 304 square miles — three times the population living in a space that's only 30 percent bigger. That's a lot more people to push past. New York's population density is twice Chicago's — Chicago has enough folks so we don't feel lonely, but not so many jammed together it drives us crazy. ("Hell," Sartre wrote, "is other people.") Chicago still grows quiet at night. People sleep here. And during the day, we aren't so beset that we experience sidewalk rage if somebody pauses in front of us, since the city is filled with the generally nicer people you find...

New York is part of that whole East Coast wealth/status metroplex, one vast self-referential hall-of-mirrors stretching from Boston to Washington, nearly every resident obsessed with power and politics and shimmying their way up the slippery pole. Chicago, on the other hand, is part of Illinois. Thus we aren't so afflicted by tourists; heck, we're actually glad to see them, offer them directions and a stick of gum, and appreciate the revenue they bring. Because sure, we like money too, only we haven't been driven insane by it and don't show it off quite as reflexively, in part because we have...

No droid armies of identical Gordon Gekkos here. No Masters of the Universe. Yes, Chicago's got the Board of Trade and the Commodities Exchange, but no Wall Street, no vast plutocracy of soulless traders and brokers and bond marketers that New York hosts, nor their noxious trappings — no double-parked car service Lincolns, few CEO-wannabes wielding those obnoxious beach-sized power umbrellas, no Gawker or Page Six fawning after the doings of the rich under the guise of criticism. Fewer really rich people means...

With armies of the hyper-rich vying for scarce property, a one-bedroom apartment in New York rents for an average of $3,300 a month; in Chicago, it's half that. Chicagoans don't get excited about 200 square foot apartments, nor $100 million condos. Rent control? We don't have it. We have actual homes selling for $250,000 in not-so-bad neighborhoods. No key fee shakedowns here. Lacking this necessary supportive coral reef of hyper-wealth, Chicago also has...

Chicago hasn't had a Republican mayor since 1931. No city with garbage to collect and factions to diddle wants some billionaire businessman awkwardly going through the motions of caring while imposing his high-toned ideas of the Good Life on the unwashed millions. A city wants a big-hearted Democratic mayor — even one as oily and Machiavellian as Rahm Emanuel, whose personal wealth is less than 1/100th of Michael Bloomberg's. Emanuel runs marathons, yet he isn't constantly carping that his constituents are too goddamn fat. Nor do we have vexing term limits — flimsy though they are in New York — so we don't have to adjust our noses to some new boss every dozen years. You know what we call term limits in Chicago? Prison. Otherwise, no matter how vile our leaders, if they escape jail, we get used to them. Daley the father and Daley the son together served 43 years in office. That familiarity can, if you squint, almost feel like affection, a sentiment we can actually extend toward public figures because we have...

In fact, no celebrities at all — we had Oprah, but she's gone now, thank God — or few enough that regular folk can go about their business without fear of running into one. We are spared the constant threat of glimpsing, oh, Tom Brokaw as he ties his shoe on the sidewalk, and then having to decide what to do. Say something? Pretend not to notice? Whip out your iPhone? No matter what you do, you hate yourself later for how much pride you take in it. Nor do we have that netherworld of quasi celebrity/whores that envelops New York like miasmal fog since...

While Chicago does have its own local rustics from the shires, either beer-addled cheeseheads (Wisconsin) or sun-baked religious zealots (Iowa) they visit only occasionally, limit themselves to certain areas of the city (Navy Pier and Michigan Avenue, primarily) are glimpsed in fearful family knots, carefully wending their way to the Cheesecake Factory, readily identifiable by their guidebooks and Green Bay baseball caps. They seldom stay long. And they don't end up on reality television. Nor do they linger on the public way, grotesquely stuffing themselves because...

Nobody actually wants to buy a hot dog that's been floating in fat-flecked tepid water for six hours, in a bun that was cracked open by the thumb of an unkempt man without access to toilet facilities and consume it while standing next to an idling brontosaurian tour bus. But people are hungry, and if the carts are there, they line up to fill their stomachs — in the rare case of a food cart that's actually good, the line is so huge you can see the food, but can't get to it during your lunch hour. In Chicago, you can't even get into a line — our powerful restaurant association has kept food carts off our streets. So you have to go to a real restaurant or bring actual food with you, both better options than a shish-kabob stinking of Sterno. Nor are there many mobile vans gulling you into spending $4 on a cupcake. No Bavarian waffles, no artisanal brioches. Roasted glazed cashews are a hard-to-find treat for Chicagoans. And on those rare occasions when you do eat in the street, in Chicago you don't have to do so while standing by towering piles of garbage, because we have...

Chicago has small access streets, called "alleys," cutting up our city blocks, something more rare in New York, which means: a) the garbage is hidden out of sight, not obscuring the sidewalks in giant mounds the way they do in New York and, b) deliveries can be made in these alleys. No menacing iron hatches on the sidewalk for passersby to worry about tumbling into. Plus we have Lower Wacker Drive downtown, a secret subterranean highway that only local residents know about. It makes driving across the heart of the city a snap, below or above ground, because...

No diplomatic plates. No pampered Eurotrash spawn of ambassadors parking everywhere, getting blasted at chichi bottle service bistros then committing vile crimes and then blowing town. No gridlock induced by some grand potentate from a nation you never heard of closing down the expressways. No annual gathering of the world's tinpot dictators and mini-fuhrers gathering in your backyard to denounce your beloved nation and everything it represents. All Chicago can boast is being the home of the President of the United States, but he seldom comes here — maybe once a year — so it's not a problem. Chicagoans are not only unencumbered by the pomp of leadership, but when we do drive places....

Really, truly, on the street, at a meter. Fewer people means fewer cars and actual, honest-to-God, on-street parking, which never happens in Manhattan, where anyone foolish enough to drive into Manhattan has to pony up 50 bucks at a garage whose sign says, in large print "ALL DAY SPECIAL: $8.45" and small print "per half hour." Nor is there alternate side parking in Chicago, so no going crazy moving your car all the time. In New York, yes, you can park in places like Queens, but nobody actually thinks of those places when they're talking about New York, a reminder that....

The whole city, every inch. Meanwhile, most of New York's five boroughs have to live with the permanent stigma of not being Manhattan or, lately, Brooklyn. But wherever you live in Chicago, in any of its 200 neighborhoods, 77 communities, 50 wards, it's all still "Chicago" — no sub-Chicago boroughs, no tags of discomfort on par with living in the Bronx or that fifth borough whose name always escapes everybody (hint: Staten Island). Sure, some communities in Chicago don't have the best reputation, but most of the bad stuff that goes on there, stays there, because the city has...

New York actually has a generally lower crime rate than Chicago — far lower when it comes to murder — but lacking a Murdoch scare sheet to stick the most nightmarish cases under your nose in 72 point type, the sense of continual menace that so often grips New York isn't found in Chicago's 76 communities that aren't Englewood. Our horrible social service case history horror stories slumber in the back of police logs, for the most part. Thus fewer sliding steel grates over stores, fewer anxious relatives worrying about us needlessly. Not only no Post, but no magazine industry. No book publishing industry means very few obligatory book parties. Heck, very few writers at all, because....

In New York, the famous writers — Salman Rushdie, Jay McInerney, Tom Wolfe— are not only very much alive, but often at the same party you're at, wedging their way to the bar ahead of you. "Everyone knows each other," one New York writer complained. "And it's kind of awful." I bet. Like crabs in a bucket, New York's tens of thousands of professional writers all scrabble over one another, vying for attention and money, complaining all the while about isolation. In Chicago, there aren't enough writers to form a scene, and when one writer does on rare occasion encounter another, the tendency is to be sympathetic, even friendly, like polar explorers waving at each other on their lonely trek across the empty frozen white expanse. In Chicago, it's an open field, not only for writers, but for artists and playwrights, feeding a vibrant, original theater scene. Your show fails in New York, the world knows it the next day and you're dead and your career is over. In Chicago, nobody notices and nobody cares and you live to try another day. You aren't branded as a failure after your first misstep because...

No velvet ropes. No compressed egocentric view of the world. We get excited when they make TV shows here. Movies even more so. "Look! A movie set in Chicago! Golly!" Chicago music is earthy and real: Chicago Blues — Johnnie Lee Hooker bending a note on "Bumblebee, Bumblebee." Chicago Jazz — Louis Armstrong playing a mournful note on "La vie en rose." What's characteristic New York music? Joey Ramone crashing out his two chords and howling about wanting to be sedated? Patti Smith flashing a hairy armpit? Ethel Merman belting out "I'm a Yankee Doodle Dandy"? No wonder New Yorkers are unhappy. Which brings up the central, defining advantage of Chicago over New York — we're happy. We're enjoying our lives, for the most part. We haven't crawled to the top of the wall, looked over, and seen the abyss. New Yorkers can all fight each other, wrestling to see who gets to be King of the World, maybe, for a minute. We'd rather live in our world, such as it is, right now.
There are dozens of more advantages -- bridges that go up, a sensible grid street address system, without all those former Dutch cowpaths, no Billy Joel, no Howard Stern. Wrigley Field.
And yes, to be fair, New York does have a few aspects that Chicago can't touch -- the Chrysler Building; the High Line; the New York Public Library's 42nd Street reading room; Barney Greengrass, the Sturgeon King; Central Park, so long as nobody is having sex in the bushes nearby and... well, that's about it.
Chicagoans don't normally mention our superiority, because of our natural Midwestern modesty. But somebody had to point it out. Don't blame me for being the one.