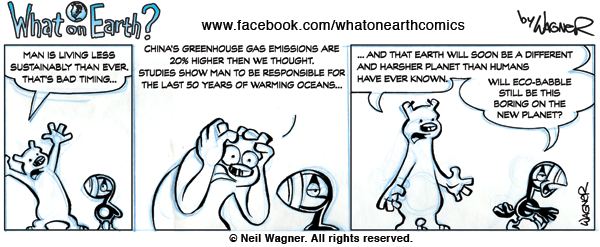 These are the best of times and the worst of times for the climate change cartoonist field. On the plus side, there is no problem coming up with new ideas -- there are new, horrifying climate findings being reported every day. On the down side, there are new, horrifying climate findings being reported every day. The research below has been reported to the media in just the last few weeks.
"China's carbon emissions could be nearly 20 percent higher than previously thought, a new analysis of official Chinese data showed on Sunday, suggesting the pace of global climate change could be even faster than currently predicted." Read More.
"As Andrew Revkin of Dot Earth puts it, warming has led to 'pop-up forests' in regions of the planet that usually see little more than summer shrubs. That's a sign of just how fast the Arctic in particular can respond to global environmental change. And as the Arctic greens, it could speed warming even more as the darker foliage absorbs sunlight that would have been reflected back into space by the white tundra... The advance of forest into the Arctic could increase Arctic warming by as much as 1° to 2°C by the end of the 21st century." Read More.
In the 1989 film, The Fabulous Baker Boys, the Baker brothers' work lands them a week-long stay at a resort hotel. During an argument, Jeff Bridge's character threatens brother Beau with a pineapple from the complimentary fruit basket. When the citrus missile is released and finds its target, a stunned Beau gasps, "You HIT me!"
"I TOLD you I was going to hit you," replies Jeff.
That, folks, is where we stand with climate change. Our dismissal of its warnings that it would hit us has led to our current condition -- stunned and pelted with pineapples.
That analogy sounded better in my head.
SUBSCRIBE AND FOLLOW
Get top stories and blog posts emailed to me each day. Newsletters may offer personalized content or advertisements.
Learn more