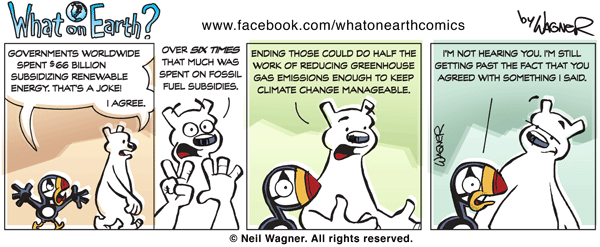 A common concern about taking action against climate change is the idea that government mandates will muck up the works: hamper business, create bureaucracy and destroy the economy. A new study posits that we can turn that whole concept on its head and achieve half the carbon emission reductions experts are calling for, simply by removing government involvement.
As Slate reports, the International Energy Agency has determined that "Phasing fossil fuel subsidies out would be sufficient to accomplish about half the reduction in greenhouse gas emissions needed to meet the goal of preventing average world temperatures from rising more than 2 degrees Celsius."
• • • • • • • • • • • • • • • • • • • • • •
SUBSCRIBE AND FOLLOW
Get top stories and blog posts emailed to me each day. Newsletters may offer personalized content or advertisements.
Learn more