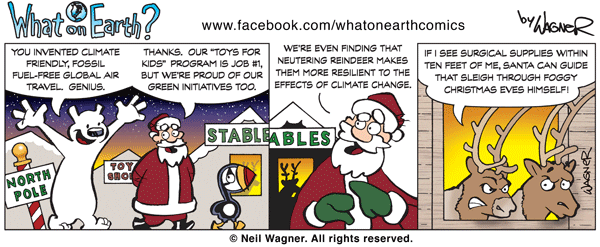 When I first had the idea for today's comic strip, I had envisioned largely the same punchline as you see above. But the cause of the reindeer's ire was different -- a special diet, courtesy of Santa, that would reduce their flatulence. Methane produced by livestock contributes significantly to global warming, so there is ongoing research to reduce gassiness: animals are fed bugs, alfalfa and flaxseed, among other things. You could see why a reindeer might balk.
They survive on a sparse diet comprised mostly of arctic shrubs, which aren't easily degradable. Scientists believe reindeer guts are very efficient and don't leave a lot of waste. Their lack of burps and farts probably make them excellent dinner guests. But I digress.
There are two primary ways to deal with climate change -- mitigation and adaptation -- and reindeer are involved with both. Santa mitigates the effects of climate change when he chooses a mode of transportation (reindeer) that emits minimal greenhouse gases. Researchers have found a technique that helps reindeer adapt to the effects our changing climate, but it's one the reindeer in today's cartoon (Dasher and Donder, I believe) may not relish: castration.
Norway's Indigenous Sami peoples have observed that sterilized male reindeer can grow larger, are more willing to allow hungry calves access to food, and can break through ice to better dig for for their meals in frozen lichen pastures. This is important because climate change causes frozen ground to thaw and refreeze more frequently, making the ice much thicker.
If you happen to see Santa's eight tiny reindeer this December 24, please take the opportunity to find out if they've had any recent medical procedures. Or try viewing NOAA's North Pole web cam on the off chance you spot one of Mr. Kringle's team wandering by. Otherwise, feel free to follow their journey via real-time radar access from NORAD.
SUBSCRIBE AND FOLLOW
Get top stories and blog posts emailed to me each day. Newsletters may offer personalized content or advertisements.
Learn more