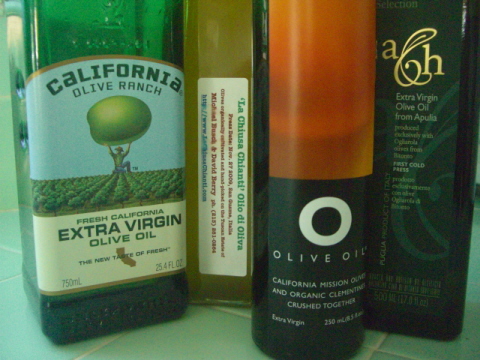 May is National Mediterranean Diet Month, so what better time to think about adopting healthy food habits that have been shown incontrovertibly to benefit just about every conceivable portion of your life and physical well-being -- cognitive abilities, disease prevention, and heart health to name just a few. Start by getting your very own copy of the Med Diet Pyramid from Oldways, an awesome nonprofit back East that according to their website is "changing the way people eat through practical and positive programs grounded in science, traditions, and delicious foods and drinks." Then head out to your favorite market for a bottle or two of the linchpin of the Med Diet: olive oil.
Humans have been pressing those little green ovals to produce oil for over 10,000 years. Native to the Mediterranean region, the olive tree has been an integral part of many cultures, influencing and representing cuisines, religions, and societies. But only in the recent past have we discovered just how potent this green-gold elixir is, and the amazing role it plays in fighting disease and increasing longevity for those who enjoy its fragrant deliciousness.
Seriously, I could fill a dozen pages extolling the manifold benefits of olive oil, and not even begin to scratch the surface. The two primary movers and shakers are monounsaturated fatty acids (MOFAs) and polyphenols. Singly and together, they produce effects in the body that truly seem not only to promise but actually to deliver a longer, healthier life. Scores of studies on multiple continents have shown that daily consumption of extra virgin olive oil, especially as part of a classic Mediterranean Diet emphasizing whole grains, vegetables and non-red meats, directly contributes to lowered rates of heart disease, cancer prevention, and a host of other life-prolonging results.
The anti-inflammatory effects of olive oil are prodigious, and help to ward off atherosclerosis, reduce high blood pressure, and increase HDL (good) cholesterol levels. These effects can also aid in reducing the severity of the symptoms of asthma and arthritis.
The antioxidant effects are even more astonishing; in addition to contributing to coronary well being, they protect against osteoporosis, dementia, and numerous cancers, especially breast and colon.
And all this can be had from only a few tablespoons of olive oil a day. But please note: don't just add it to your diet, use it to replace other fats. Instead of butter on your baked potato, drizzle on some fresh Tuscan olive oil and a grind of black pepper; instead of mayonnaise on your tuna salad, stir it with a dollop of light Greek olive oil and a handful of fresh herbs; use it on your steamed veggies, over your green salads, under your scrambled eggs.
And be sure it's extra virgin olive oil -- that's the one with the most benefits, when using right out of the bottle. For cooking, since heat removes some of the nutrients, a good quality regular olive oil will do just fine. Then throw in some fish and poultry and a little lean red meat, plenty of whole grains and vegetables, beans and a few nuts, and that's about as close as any of us will ever get to that elusive Fountain of Youth. Oh, and don't forget a couple of glasses of red wine -- my favorite part of the Med Diet for sure!
Just How Virginal Is That Oil?
All the studies seem to agree: extra virgin olive oil is the way to go. It has the most potency health-wise, and the best flavor. So you just grab the nearest bottle that says "extra virgin" and you're good to go, right?
'Fraid not. The olive oil world was thrown into chaos last year by a report out of the University of Davis; after studying, testing, and tasting a wide sampling of oils purchased in three major cities in California, the panel concluded that many of the ones labeled "extra virgin" were in fact less than virginal - they failed to meet most IOC standards for such labeling, and were inferior in taste and health benefits. They were blends of better and lesser oils, in some cases completely different oils like nut or seed oils; or they had been made from inferior olives, or had been poorly stored with resulting degradation. Many of these mislabeled oils were brands that you will find on nearly every supermarket shelf. (Read the report at http://olivecenter.ucdavis.edu) Subsequently, the USDA came out with the first revision of standards for olive oil labeling since 1948.
So how can you be sure you're getting what you paid that premium price for? There are a few things you can do. For California oils, look for the California Olive Oil Council (COOC) seal, or the North American Olive Oil Council (NAOOC) seal; seek out small producers who grow, press and bottle the oil themselves. For imports, it gets tough; "cold-pressed" and "first pressing" are good, but no guarantee that all the oil is extra virgin. I've had my best success with regional and site-specific producers, where the oil is clearly labeled as to origins. Avoid the mass-market brands; pay a little more, and get a whole lot more in return.
You want your olive oil to be as fresh as possible. Some Italian oils come with a bottling date, which is excellent. You can see one in the picture -- a hand-picked organic oil from a small Tuscan estate called "La Chiusa Chianti", which is one of my favorites. Only buy what you can use in a short period of time, and store excess in the fridge; keep only what you need for a week or so at room temperature. Clear bottles are a no-no; dark and cool is the way to go, so tinted bottles or metal containers are preferable. And keep your current bottle away from the stove and out of the light, to keep it at its best.
Now that you have a bottle or two of that glorious elixir, get cookin'!
Ultimate Caesar Salad
A healthy interpretation of the classic! Make your own homemade croutons with a cubed whole-grain baguette baked with a drizzle of garlic olive oil...
1 large head of organic romaine lettuce, washed and torn into bite-size pieces
3 tablespoons fresh lemon juice, preferably meyer lemon
1 teaspoon microplaned lemon zest
1/3 cup red wine vinegar
1 tablespoon Dijon mustard
2 anchovies, mashed (or more, if you're a fan as I am)
1 medium clove garlic, minced
Grind of black pepper
1/2 cup extra virgin olive oil
1/4 cup canola oil
1/2 cup shredded reggiano parmesan
Croutons for garnish
In a large jar or similar container, combine lemon juice, vinegar, mustard, anchovies, garlic & pepper, and shake thoroughly to combine. Add olive and canola oils, shake again until smooth. Taste, and adjust with a little more vinegar or olive oil to taste.
Toss romaine with just enough dressing to moisten evenly, not drench; sprinkle Parmesan over salad and toss briefly again. Top with croutons.
Serves 4-6.
Scrambled Olive Oil Eggs
This simple but elegant breakfast dish is fast, healthy and delicious... Serve with whole wheat toast and fresh fruit.
2 tablespoons olive oil
3 egg whites
3 whole eggs
1/2 tablespoon cold water
1/2 tablespoon snipped fresh chives
Salt & fresh ground pepper to taste
In a small bowl, whisk egg whites, whole eggs, water and chives lightly with a fork until combined and a little frothy. In an omelet pan, heat the olive oil over medium high heat; add eggs and stir gently with a spatula, turning and lifting eggs to allow uncooked portions to reach the pan. Cook just until opaque; remove from pan quickly, add salt & pepper to taste, and serve.
Serves 2.
[Portions of this post appear in my monthly "Eat Smart" column in the May issue of Better Nutrition Magazine.]