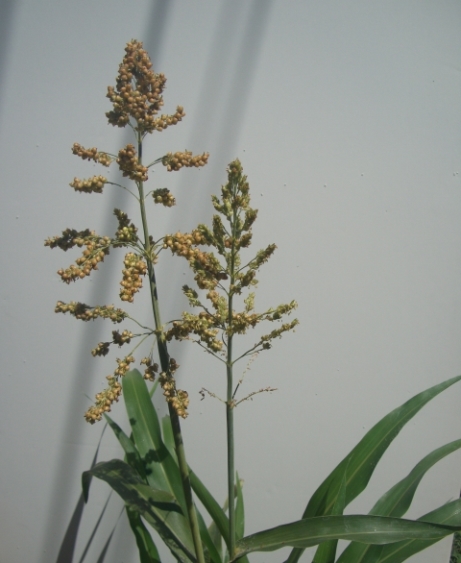 By this time, we all pretty much know that we're supposed to be eating whole grains, and lots of them. But if you're anything like me, your notion of exactly what constitutes a "whole grain" (as opposed to what, a "partial grain" or a "half-hearted grain"?) is seriously fuzzy. And exactly how are they obtained from those vast "amber waves of grain," whose virtues we extol in song?
A recent tour of the wonderful Bob's Red Mill in Portland, Ore. opened my eyes to all sorts of new information -- though it's old information really, since the milling of grains has been going on for millennia. As far back as the Greek and Roman civilizations, water-powered mills were grinding whole grains to make an array of tasty and healthful foodstuffs.
I learned that a "whole grain" consists of the bran (outer coating), germ (inner heart) and endosperm (central portion). To be considered and labeled "whole," a grain must have all three components, in the proportions in which they are found in nature. So technically, it is permissible to separate the components and recombine them, as long as the amounts and proportions remain the same.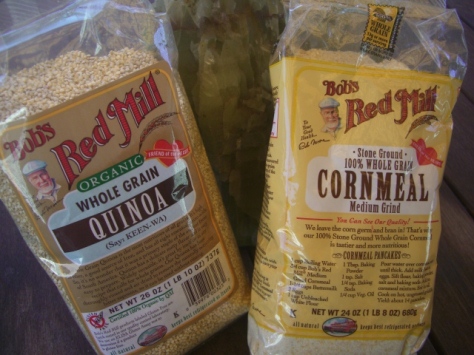 That's where it can get fairly complicated for us poor consumers, trying to sort out exactly what we're getting in various products on the grocery shelves. We know how beneficial whole grains can be, that they can reduce the risks of multiple maladies, including cancer, heart disease and diabete. They provide fiber, complex carbohydrates and protein, all in one tiny little package. And the most recent Dietary Guidelines for Americans, published by the U.S. Department of Agriculture, recommend that more than half of our grain intake consist of whole grains, while noting that 95 percent of Americans currently do not achieve this goal. But boy, are all those labels confusing: "Whole wheat" doesn't necessarily mean "whole grain," nor does "nine grain," "multi-grain" or any other "grain."
Here are a few tips to clear away some of the uncertainty:
For flour, cornmeal and such: Look for "whole grain." Avoid the words "refined," "enriched," "bleached" and "bromated."
For cereals: Make sure the first ingredient is designated "whole" -- whole corn, rice, etc. (Try my new favorite -- Uncle Sam's Whole Wheat Berry Flakes with Wild Strawberries.) Oh, and watch out for the sugar content.
For breads: Read that label! Again, the first ingredient should be a "whole grain." Just because it's brown doesn't mean it's whole grain -- molasses may have been used to give it that "whole wheat look."
Buy and cook products that are, by their nature, whole grains: brown rice, rolled oats, quinoa and popcorn -- yes, popcorn!
I hope this brief bit of basic information will make it easier to reach and surpass that daily requirement of "three servings of whole grains." Try oatmeal for breakfast (or some great corn-blueberry muffins -- see below), make a little grain-and-veggie salad for lunch, have a satisfying brown rice pilaf with your dinner and give yourself and your family the amazing whole-grain health you deserve.
Not Your Mother's White Bread
Some of my most potent sensory memories of childhood revolve around a sandwich -- to be precise, a PB&J on Wonder bread. That soft, squishy white bread enclosing a thick smear of smooth peanut butter (Skippy's) and grape jelly (Welch's, of course), accompanied by a cold glass of full-fat milk, was a treat of the highest order. Compromised nutrition, sure, but oh so delicious.
Nowadays, the milk is still cold but non-fat, and the sandwich is organic chunky 100 percent-peanut butter and sugar-free fruit spread on whole-grain bread -- satisfying, nutritious, but not quite as heavenly.
So imagine my delight when attending the Whole Grains Conference in Portland, Ore. to discover there is such a thing as white whole wheat, and it is rapidly becoming an acceptable and even desirable replacement for bleached, half-hearted refined white flour. There is actually a "white" strain of wheat (the traditional variety is red), with all the nutrition of red wheat but not the darker color (so off-putting to children, right?). So okay, it's not blindingly white, like the nutritionally-challenged loaves of yore -- more like a vanilla shade -- but it's still eminently appealing. And you can even find it without too much trouble -- King Arthur makes an organic whole white wheat flour that produces awesome baking results, and it can be found in markets across the country.
And that Wonder bread? I'm thrilled to report that it is now made with whole white wheat! And I for one intend to relive my childhood PB&J delight at the earliest possible opportunity.
To get you started, here are a couple of my favorite recipes that provide a decent dose of whole grains:
This souped-up version of a Middle Eastern classic provides a wealth of nutritional benefits and tastes awesome! Serve it as a dinner side dish with grilled anything, or over salad greens for a satisfying lunch.
½ cup bulghur wheat
1 cup water
1 teaspoon microplaned lemon zest
1/2 teaspoon ground cumin
1/2 teaspoon kosher salt
1 1/2 cups chopped fresh parsley leaves, well-dried
1/4 cup chopped fresh mint leaves, well-dried
1 cup chopped seeded heirloom tomatoes, well-drained
1 cup chopped Persian cucumbers
1/2 cup chopped green onions
2 tablespoons chopped red onion
3/4 cup frozen soy beans, thawed
1 teaspoon minced fresh red jalapeno (optional, if you like a little heat!)
1/4 cup fresh lemon juice (approx.)
3 tablespoons extra virgin olive oil
In a medium saucepan, combine the bulghur and water and bring to a boil. Remove from heat and let it sit, covered, for 15-20 minutes. Spread bulghur over a paper-towel-lined baking sheet, and chill for 20 minutes.
In a large bowl, combine bulghur with lemon zest, cumin and salt, fluff with a fork. Gently stir in all remaining ingredients. Taste for lemon -- it should be bright and distinctly lemon-y; add more lemon if necessary, and salt and pepper to taste.
Best if thoroughly chilled before serving. Serves 4-6.
Basic Blueberry Corn Muffins
Instead of cereal and fruit, start your day with these yummy treats and a little Greek yoghurt.
1 cup white whole-wheat flour
1 cup whole-grain cornmeal (I use Bob's Red Mill, medium grind)
1 1/2 tablespoons baking powder
1 teaspoon salt
1 stick organic unsalted butter, divided and melted
1 large organic egg
1/4 cup + 2 tablespoons honey
1/4 cup + 2 tablespoons brown sugar
1 cup 2% milk
2 cups fresh blueberries
Preheat oven to 400 degrees. Moisten a 12-cup muffin tin with PAM spray.
In a medium bowl, whisk together the flour, cornmeal, baking powder and salt. In a small bowl whisk the egg, then whisk in 1/4 cup honey, 1/4 cup brown sugar, 6 tablespoons melted butter and the milk. Pour egg mixture over dry ingredients, stir just to combine. Fold in blueberries. Divide equally in muffin tin, bake for about 20 minutes, until a toothpick comes out clean. Cool briefly, turn out onto a cooling rack.
Combine remaining 2 tablespoons each of butter, honey and brown sugar, heat until bubbling, and spoon over muffin tops.
[Note: a version of this post appears in my "Eat Smart" column in the September issue of Better Nutrition Magazine.]
Photo credits: Neil Zevnik
SUBSCRIBE TO & FOLLOW LIFESTYLE
HuffPost Lifestyle is a daily newsletter that will make you happier and healthier — one email at a time. Learn more