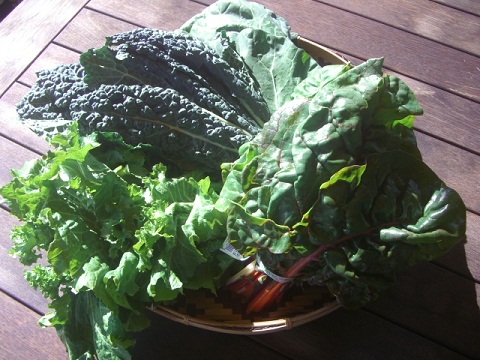 If you've spent a New Years Day in the Deep South, then you know that nothing starts the year off right like a "mess o' greens." For luck and good fortune, you simply must have black-eyed peas and greens on the first day of the year; oh, and don't forget the cornbread to soak up the "pot likker" -- the liquid the greens are cooked in.
Actually, you'll get a lot more than just good luck from your New Years greens. The cruciferous veggies usually found in the stewpot are a concentrated source of good health as well. Collards, kale and mustard greens -- the classic triumvirate -- provide a plenitude of protection against many of the ills that might befall you in the ensuing year.
As we all know by now the cruciferous family of vegetables, which encompasses broccoli, cauliflower and cabbage as well as many greens, plays a vital role in cancer prevention. It is here that greens shine the brightest; they provide nutritional support for the three body systems that are involved with cancer development and prevention: detox, antioxidant and anti-inflammatory.
The array of antioxidant phytonutrients to be found in these three greens is staggering -- well over 45 and counting. They contribute to a reduction in oxidative stress and chronic inflammation, two factors that can lead to numerous maladies, including cataracts and heart disease but especially cancer. These same compounds can make a marked contribution to lowering cholesterol, by binding the bile acids in our intestines to allow them to pass safely out of the body. And by contributing to a higher effectiveness in both phases of the body's detox process, they can provide protection against the environmental stresses that our bodies inevitably endure in this polluted age.
So even if you live in cold northern climes and have never whiled away a muggy Southern afternoon in a rocking chair on the porch with a mint julep in hand, it's time to get yourself a mess o' greens on a regular basis. Here are a few tips to get you started:
Always choose greens that are bright and crisp, with no yellow or brown spots, and no discolored edges or small holes. Colors should be vibrant; yellow leaves means they're long past fresh, and have lost much of their nutritive value.
If you can, select smaller leaves rather than larger -- they're sweeter and less bitter.
Let the leaves sit for a few minutes after you chop them, before using; it amplifies the nutritional value. And cooking accomplishes the same thing -- cooked greens have a far denser nutritional profile.
Store for no more than a few days, in the coldest part of the fridge, in a zip-lock bag with most of the air squeezed out.
Check Your Greens IQ
Did you know that:
... greens were growing wild in Asia and the Mediterranean before recorded history?
... when the first African slave ship arrived in Virginia in 1619, collards were already abundant?
... during the Middle Ages, kale was one of the most common vegetables across all of Europe?
... plantation slaves used ham hocks in their greens because their masters would not eat these "scraps"?
... in Brazil, a juice made from collards is favored as a remedy for gout and bronchitis?
... on Halloween in Ireland, the traditional dish called colcannon is made with mashed potatoes and kale?
... mustard greens are used to remove heavy metals from contaminated soil in hazardous waste sites?
... an old superstition in the South holds that hanging a collard leaf over the door will ward off evil spirits?
Mess o' Slow-Cooked Greens
This traditional Southern dish is perfect with a roast chicken and mashed potatoes... and of course, black-eyed peas!
2 cups organic low-sodium chicken broth
4 bunches fresh greens (collard, kale, mustard),
stems removed and coarsely chopped
6 whole cloves garlic, peeled
4 spring onions, cut into one-inch pieces
1 smoked ham hock (or use a smoked turkey drumstick)
1/2 teaspoon coarsely ground black pepper
In a large heavy pot, bring broth to a boil. Add remaining ingredients, return to a boil. Reduce heat to low, and barely simmer for about 1-1/2 hours, stirring occasionally.
Remove ham hock (or turkey drumstick); shred the meat, discarding all skin, fat and bones, and return meat to pot. Crush garlic cloves with a fork and give the whole pot a good stir.
Serves four.
Spicy Kale & Pinto Bean Soup
A tasty treat that makes a perfect light supper paired with a crunchy green salad and a whole wheat baguette...
2 tablespoons canola oil
1 small brown onion, chopped
1/2 teaspoon ancho chile powder
3 cloves garlic, peeled and minced
1 teaspoon chopped fresh red jalapeno
6 cups organic vegetarian broth
2 bunches kale, stems removed and leaves chopped
2 cans organic pinto beans, drained and rinsed
1/4 cup chopped fresh cilantro leaves
Heat oil in a large heavy-bottomed saucepan over medium heat. Add onions and chile powder, cook until onions are barely translucent, stirring often, about five minutes. Add garlic and jalapeno and cook, stirring, for another minute. Add broth and bring to a boil. Add kale and pinto beans, bring back to a boil, then reduce heat and keep at a high simmer until kale is wilted and cooked through, about 8-10 minutes.
Remove from heat, stir in cilantro, and serve immediately.
Serves four.
[Note: A version of this post appears in my "Eat Smart" column in the January issue of Better Nutrition Magazine.]