Our nation recently celebrated National Hispanic Heritage Month, which is held September 15 to October 15 each year. The celebration has been taking place since 1968 and was enacted into law in 1988. It's a big deal, and a well-deserved celebration of the people, histories and cultures of Americans of Caribbean, Central and Latin American, Mexican and Spanish descent.

They are, mind you, a significant demographic: According to a December 2010 report in the Population Bulletin update, between 1980 and 2009 the Latino population in the US more than tripled, from 14.6 million to nearly 48.4 million. That's about one-sixth of the US population.
According to the 2010 U.S. Census, nearly 40 percent of all California residents are Latino, and during the last decade, 49 percent of all births in California were attributed to Hispanic women. In fact, Latina moms are quickly becoming one of the most powerful and fastest-growing groups of influencers in the state, and the trend is reflected around the country.

So I'm thrilled that Count Me is working with Coca-Cola on an exciting new venture called Coca-Cola Tour Adelante, a series of daylong forums designed to empower Latinas to help themselves, their families and their communities by learning to clearly state their dreams and attain the tools to make them real. The program kicks off with live forum for women in L.A. on December 3, and I'll be there leading workshops with former Telemundo president Nely Galán and celebrated author Sandra Cisneros. It's going to be an amazing day!

This idea of "living your dream" got me thinking about how sometimes just being able to articulate that dream can help women move some of the mountains before them. You need to know what you want, what you REALLY want, before you can work toward success. This applies to dreams for your family, as well as to growing your business.
Take Beatriz Ramos, founder of Dancing Diablo, a full service animation studio in Brooklyn. This Venezuelan-born artist grew up very talented, but without a strong sense of her real potential. She graduated from college in Caracus and moved to the US in her early 20s, where her career as an illustrator flourished. Despite successful tenures at major companies like MTV and Disney, and then launching her own studio here in 2002, she still did not have a clear vision of herself as more than a technical artist.
In 2004, Beatriz was one of our micro loan clients and came to us for a larger loan. In speaking with her about it, we talked about what she planned to do to grow her business and the kind of support system she needed. That conversation got me thinking: more women could benefit from this talk. Beatriz needed more to expand than the computer she used the micro loan for. She needed a plan to grow, some no-nonsense mentoring, as well as a trusted community of others through which she could learn and be encouraged to dream bigger.
We took Beatriz's needs as a woman small business owner and developed a program, community and movement that to date has helped hundreds of women maximize their potential. Beatriz became the inspiration for what the Make Mine a Million $ Business program is today and she remains a shining example of what you can become once you harness your potential--namely the owner of a million dollar business!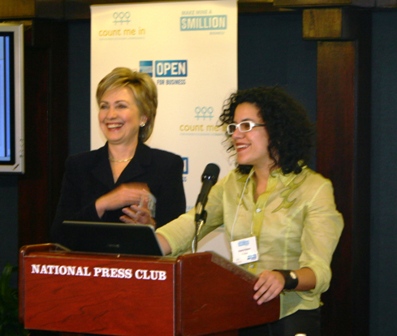 "CMI taught me how to build a business, build a plan for expansion, and grow into a CEO," Beatriz recently told me (that's her pictured with Hillary Clinton at the launch of Make Mine a Million $ Business in 2005). This former struggling artist learned how to not only broaden her vision, but control how she develop it. She now runs an international enterprise with clients that include Ogilvy & Mather and their work for (guess who?) Coca-Cola.

Then there's Natalie Boden, president and founder of BodenPR, a boutique agency based in Miami. Natalie grew up in Honduras and came to the US as a teen with very little English. As the child of entrepreneur parents, she knew this could not and would not be something to hold her back. "I was never taught to cook; I was taught to sell," she explained to Latina Magazine in a 2008 interview.
She went on to graduate from Florida International University with a degree in English Literature and never looked back. She won the M3 competition in 2007 and grew her agency into one of the nation's leading U.S Hispanic PR firms. Today, this married mother of two counts Delta Dental, FedEx, and Geek Squad among her clients.
Latina moms are a growing part of our community of amazing women entrepreneurs and you can read more of their stories here. I continue to be honored and inspired by the richly diverse group of women we work with, all of whom have gone on to honor and inspire other women trying to "state their dreams" and harness their potential. And I'm excited for what that will mean for the future of our nation.
¡Adelante! - Let's go ladies!
The Coca-Cola Adelante Tour launches a digital community on November 14, followed by a kick-off forum on Saturday, December 3, at the Casa del Mar Hotel in Santa Monica, California. For more info go to www.makemineamillion.org/Coca-Cola-Adelante-Tour starting Friday, October 21.

SUBSCRIBE TO & FOLLOW THE MORNING EMAIL
Start your workday the right way with the news that matters most. Learn more