Kimberlie Cerrone has a lot of start up experience, on the business front and otherwise. She's managed two IPOs and been involved at the C-Level with no less than eight start ups. More than twenty years ago, Kimberlie was in law school and raising two kids and her third child, Sarah, was born while she was starting her first company.
"It is family legend that I was late to my C-section with her because a board meeting ran long, and that I made a business call to our FDA consultant on my husband's cell phone from the recovery room after the C-section," recalls the former strategic dealmaker for (guess who!) Yahoo. "As far as I can remember, working while pregnant wasn't a big problem. Kids are far more challenging after they are born."

I share that story because Kimberlie, now the CEO and co-founder of Tiatros, a HIPAA-compliant healthcare cloud that gives every patient his own virtual medical office, is a pioneer. She's a veteran of birthing babies and businesses at the same time -- apparently, a radical idea in today's culture.

Except it's not.

Indeed, women have been running companies and raising families for centuries, but you'd never know it based on the news coverage of Marissa Mayer, Yahoo's new CEO. In case you haven't heard, Mayer, 37, is also pregnant. The media and blogosphere have been all aflutter --
Will she take a maternity leave? Will she breastfeed at the office? Can she do two jobs at once?

On the one hand, I'm happy this conversation is getting so much attention. On the other hand, I'm dismayed that it is. Why are we still talking about this? To me this is a false conversation: it's not a question of can women do it, but how do they do it. Everyday. This is not a high level philosophical exchange among the Intelligentsia -- This is real life!

And I worry that while Marissa is taking on a big challenge that could be a game changer in how women are perceived in business, any mis-step will be scrutinized heavily, and not a little unfairly.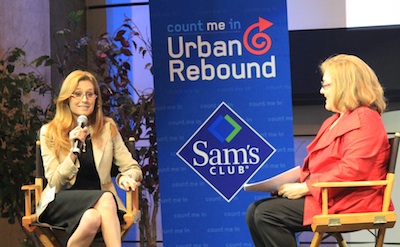 style="float: left; margin:10px">"I think she'll be a role model," says Ariela Balk (pictured with me here), a mother of eight (yes, EIGHT!) and the founder, president and CEO of her own $300 million dollar business, Ariela-Alpha International, one of the largest privately held lingerie companies in the country and one of the biggest woman-owned vendors for Walmart. "She'll be famous and in the future, when boards are hesitant to hire women of child-bearing age, they will have real examples of women that have done it. For now, it is still an issue so we might as well talk about it. But it will become a non-issue when people see that women can do it all."
Women like Colleen Mook, a mom of four and CEO of Baby Be Hip, a Philadelphia-based web retailer, says, "Obviously, the board thought she was the most qualified candidate for the position." She continued, "She can work while pregnant up until she delivers, if there are no complications. She will have a great team behind her and will be accessible shortly after the birth of her baby. With technology today, you don't have to be physically present to do a great job. It's not like she will take months off and be unplugged."
What's more, she added, "She will probably have some brilliant ideas when she is holding her baby in the middle of the night. She will learn a lot now while pregnant at Yahoo, and then being 'away' for a bit may give her white space for some great ideas."
I spoke with other members of the Count Me In community who have grown their revenues up to 300% while balancing babies and business and asked what advice they have for other women trying to do the same. The top nugget: One size does not fit all. Find out what works best for you; what works for one may not for another. And don't judge anyone else.
"I think it's important not to judge a woman's choice, whatever it is," says Valerie Lecoeur, a mother of three and the owner of Zoë b Organic, a Winston-Salem business which manufactures and distributes eco-friendly products for babies and kids. "Whether it's taking one day off after having a baby or three months off, it's up to each woman to make that decision."
Well said! I have plenty of friends and colleagues who have taken both paths very effectively. Here are some of the other thoughts and suggestions shared from just a few of our CMI women:

1. Prioritize. "I tend to work best and smartest when I am busy -- and I'm usually busy!" says Colleen. She started her company when her oldest was a year old and worked up until delivery for the other three. She was always accessible to her team and customers within 24-48 hours after delivery (all c-sections). "I try to compartmentalize -- when I am working, I am working and when I am with my kids, I try to be present." Copious amounts of coffee, along with a supportive husband, famil, and work team also help. So does a "Must Do" list to keep her on track.

2. Get help! Even if you can't afford a full-time nanny, there are creative ways of getting help, especially from family members or other businesswomen (and men) in the community who may be in a similar situation.
"Some women just seem to have it all together: career, family, physically fit, social life, outwardly happy, give back to the community. Well, I can tell you that all of that coming together is no accident!" says Dawn Gluskin, founder SolTec Electronics, a Melbourne, Florida-based company that she grew from her living room floor into a multi-million dollar technology firm just six months after her first daughter was born. "Besides boundless energy, perseverance and motivation, it's necessary for the modern day superwomen to have a clear vision of exactly what she wants in all aspects of her life. From there, it takes a lot of careful planning, certain sacrifices and most of all, building a strong team for support -- it's just impossible to juggle everything alone."
The key to delegating is to first become very clear on what you are great at and what you love versus other areas where you might struggle a bit or don't have as much passion, says Dawn. "Then, find the right people to fill in the gaps. For me, at the office, I outsource all of my bookkeeping and accounting. I am a very creative person and love connecting with people and thrive in activities that utilize those skill sets. Diving into spreadsheets full of numbers, on the other hand, is just not my cup of tea. By paying experts to keep my books, I free up more time to spend on the activities I enjoy and can be most effective at and, frankly, they are going to do a much better job than me! At home, I use the same philosophy: I happily pay a housekeeping service to do all the heavy cleaning so that I don't have to worry about it on my nights and weekends -- that is my family time and I really just want to focus on and enjoy my time with them."

3. Technology is your friend. "In 2007, when my third child was born, that's when my business really took off," says Valerie. "When you work from home you work 24/7. Back then I didn't have an iPhone and I was stuck to my desk. Everything changed with iPhones and iPads and laptop computers where you can take them with you everywhere." She and her family just returned from a trip to France where she got to spend time with her loved ones, and also stay in touch with the office.
4. Schedule, Schedule, Schedule! "Scheduling is an extremely important piece of the puzzle: business meetings, play dates for the kids, date nights with the hubby, work outs, mommy-sanity time (i.e. massages, girls nights out, etc.) -- everything goes on the calendar," says Dawn, whose second baby is due in August. "I try to weigh all 'appointments' with equal value. A play date promised to my 4-year-old is just as important as a client meeting, in my mind. This is my checks-and-balance system. Like most entrepreneurs, I have the workaholic gene, but I try to harness that energy for good and not let my passion for work take over my life.
"I try not to cancel appoints on myself either. I think, as women, we tend to be nurturers and want to take care of others, so we naturally end up putting ourselves last, especially with businesses and young children as priorities. But, that mentality is sure to bring on total burnout fast. Through experience, I've come to realize that if I don't take care of myself that I won't be any good to anybody else either. So, with that mindset, I take guilt-free time for myself and enjoy it."

5. Integrate your family and your business as much as possible. "My kids have been with me through much of the growth of my business and their growth," says Colleen. "I have a playroom at Baby Be Hip, a crib for the baby and a team that will hold a baby or entertain the kids if I have to run out or take a call and they are at work with me. I think it's important to expose them to entrepreneurialism and a mom that takes care of them and works. But I also have learned there are times when I need to focus and secure proper care for them, and that's okay."
6. Focus on what's really important. Things invariably fall to the wayside, so you have to determine what's important. Balk, who started her company after her third child was born, notes, "Those friends that were more like acquaintances -- you no longer make time for them. You only make time for close relatives and great relationships. You get rid of other nonsense because you have to constantly re-evaluate your time."
7. Be strategic and creative with your time. Balk's children range in age from 9 to 22 (with two sets of twins thrown in for extra fun). In all of those years, she has never missed a birthday celebration. Rather than worry about rushing home from the office, the family celebrates birthdays in the morning, replete with presents and cake. She also takes her children with her on business trips so they each get alone time with her. "The years I was giving birth --many of them were the best years of business!" she says.
8. Take time off! Rupila Sethi, co-founder of Aerial Design and Build, a multi-million dollar New York City-based contractor with a host of A-list celebrity clients, has a rule: When she is out with her kids over the weekend, she does not bring her cell phone. "That way, I'm truly able to separate time that I'm spending with them and time that I'm half-focused on work," said Rupila, who had an 8-month-old baby when she pitched (and won) in Count Me In's Make Mine a Million $ Business competition in 2010. "I leave it at home and walk out. The idea is to be with them when I'm with them, and be at work when I'm at work."
Moral of the story? As I have been saying for years, you can have it all, as long as you don't do it all.
You can meet some of these women, and many others like them, at Count Me In's next Make Mine a Million $ Business event, July 31, at The Athena Center at Barnard College. Hope to see you there!
SUBSCRIBE TO & FOLLOW TRUMP'S FIRST 100 DAYS
How will Donald Trump's first 100 days impact YOU? Subscribe, choose the community that you most identify with or want to learn more about and we'll send you the news that matters most once a week throughout Trump's first 100 days in office. Learn more