This week Damian Martin departed in his humble Nissan, that was loaded to full capacity, towards Washington, Indiana. A small town of only 12,000 souls in a unassuming corner of the American Midwest. He leaves behind two decades with his family in cosmopolitan Los Angeles and heads alone towards an uncertain future.
The same week that Martin was leaving towards his new life, in one of my classes I presented to my students a photograph of Iwo Jima in which six Marines raise a flag in the midst of one of the most ferocious battles, at the end of World War II. We spoke of heroes that offered their lives for freedom and democracy.
We also talked about those ordinary people that every day are involved in extraordinary events but who are not publicly recognized. In contrast to the Iwo Jima soldiers who ended up immortalized in Joe Rosenthal's photo, in a John Wayne movie, and in innumerable history books; the other heroes, the ones that humbly do their feats only because they believe that what they are doing is correct and appropriate; of those, we hardly ever hear and their achievements are only scripted in the anecdotes and families' historiographies that on time will vanish forever.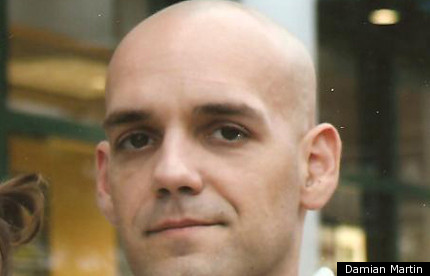 In Los Angeles, Damian Martin will be remembered for many things. To his friends, he is a sweet giant ready to literally accept the hardest punches as witnessed by those who saw him in fights of the kickboxing federation where hundred applauded, or the loyal Taoist disciple who was always willing to debate intricate topics of philosophy and politics. His family will remember him as the first to graduate from college and establish an example for future generations of Martins. Others, surely, are going to think of him as the young man who, contradicting the stereotype that some have of Latino fathers, sacrificed everything for his daughter.
What happened is that Martin's ex-girlfriend moved to Indiana with their child. A beautiful five-year old girl. The options for Martin were very simple: stay in Los Angeles and allow that time and distance separate him forever from his daughter, or in what could be characterized as a truly act of integrity and individual responsibility accept to lose everything and follow his daughter.
It is estimated that in the United States about 40% of marriages end up in divorce. This leads to 24 million children living only with their mother. Although the role of the mother in raising the children was always valued, lately many studies have highlighted the limitations experienced by children who grow up without a father. 2002 statistics from the U.S. Census Bureau, for example, show that these children have a five time higher probability of living in poverty.
Richard Wetheimer concluded that 33% of kindergarteners with lower health, emotional and social development lived in homes without a father compared to 22% who were in two-parent homes. This becomes more problematic when they grow up, as suggested by Steven Cuffe's study that shows that in middle school the chances of developing emotional problems quadruple, and a study by Kenneth Griffin that concludes that in adolescence they have higher rates for smoking, alcoholism, and aggressive behavior. John Hoffmann, on the other hand, established a correlation with drug consumption.
Martin's decision implies a monumental personal sacrifice, but it is the necessary and strategic road to follow to protect the emotional, educational, and economic future of his daughter. No one is going to take a famous photograph of Martin, nor is he going to be quoted in history books, but his daughter, his family, his friends, know or will know some day that what he is doing is an act of paternal responsibility that will have fundamental consequences in determining the future of his daughter.
FOLLOW HUFFPOST