The 2011 New York Comedy Festival returns November 9 - 13 to offer up big laughs to the Big Apple with comedy's biggest stars performing on New York's grandest stages, including Carnegie Hall, The Beacon Theatre, Town Hall, and BAM.
This year's line-up includes Louis C.K., Kathy Griffin, Bill Maher, Sarah Silverman, Norm Macdonald, Tracy Morgan, John Pinette, Ricky Gervais, Wanda Sykes, Russell Peters, BIll Burr, Jo Koy, and more! Tickets are on sale to general public this Monday, August 15. For a complete schedule of events and to purchase tickets, visit nycomedyfestival.com.
And now, without further ado, here are the top 12 reasons to attend this year's New York Comedy Festival...
12. You can get up close and personal with Russell Peters when he forgoes stadiums for a rare comedy club appearance at Carolines on Broadway (we hear he smells really good!).
11. If anyone's got something funny and insightful to say about same sex marriage, it's Wanda Sykes.

10. Bill Burr will show you how HE got to Carnegie Hall.

9. If for no other reason, it will be fun to read all of the picket signs outside of Tracy Morgan's show.

8. You're hungry for some great comedy and funny foodie John Pinette is sure to offer up a smorgasbord of delicious material that will have you coming back for seconds. Overkill on the food references?

7. In addition to her signature celebrity skewering, there's a very good chance that Kathy Griffin will flash the crowd at Carnegie Hall.

6. You can get nostalgic with "Weekend Update" alum Norm MacDonald at Town Hall and still make it home in time to catch Seth Meyers on TV.

5. New Rule... If you're a junkie for Sarah Palin-bashing, Bill Maher's just the guy to provide you with a quick fix.

4. We all know that Sarah Silverman is hilarious, but now you can see who tickles HER funny bone when she hosts a comedy gala with her favorite comedians at BAM.

3. A Conversation with Ricky Gervais at the 92nd Street Y beats any session Tony Soprano ever had with Dr. Melfi!

2. Jo Koy's perfectly round, smooth, bald head is truly a sight to behold.

1. In a word - LOUIE!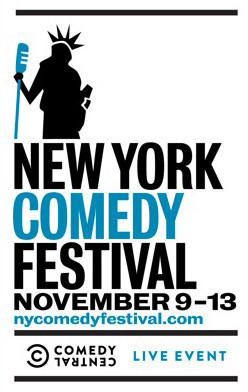 SUBSCRIBE TO & FOLLOW ENTERTAINMENT
Don't be the last to watch the viral video everyone is talking about. Learn more