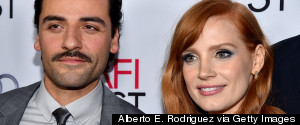 It's a film that came upon us at the end of the year, but with word of mouth and lots of significant award nominations, including a recent win as Best Picture by the National Board of Review, it will probably attain the audience it deserves in the months ahead.
When we feel nothing, are we aware that we've become numb? Do we realize that we have unplugged from the things and from people that give us vitality and a reason for being?
The day after, all anyone could talk about was how we was "robbed." There's only one problem with this: It's absolutely not true.
In all, the show was no enormous shame, a few good jokes, no great shocks. But the program did its job. It honored those who labored long and hard in the film industry this past year. And maybe that's all we should expect.

In this edition of Weeklings!, I tell you everything that's wrong with the Oscar-nominated films of this year. We've only got a week until the big event! Catch up on cynicism now!
A record 75 countries entered the foreign language category this year, and a record 16 submitted films directed by women. I saw 70 of the 75 entries. Here are my comments on the five nominees, as well some non-nominees that I consider noteworthy.
For all these reasons, and not just one, I'm going against the grain of what appears to be the general consensus and strongly suggest that Leonardo DiCaprio deserves the Oscar this year for The Wolf of Wall Street, even more than favorite Matthew McConaughey.
Unless you are finding yourself in sunny Southern California, we are all impatiently awaiting the return of blissful warmth and golden sunshine. Thankfully, spring is around the corner and gold is in the air! From Oscar statues to Olympic medals, gold is trending.
This year's animated shorts are an impressive testament to the talents working in today's animation, harnessing the potential of the medium's inherent freedom.
The validation of 12 Years a Slave could (maybe, possibly, hopefully) set the stage for more offerings of serious black subject matter in film. Honest stories that challenge us to face difficult (even disturbing) social and legal issues head on. Confrontational narratives. Narratives that complicate our social awareness.
Neil Patrick Harris brought his B-minus game to the 65th annual Emmy Awards, the show featured a five-minute interpretive dance segment in the last hour of the broadcast, and there were so many memorial segments that "Modern Family" co-creator Steve Levitan was compelled to declare the 2013 Emmys "the saddest of all time" upon accepting his trophy. Yet despite all that, Sunday night's Emmy Awards were still more engaging, heartfelt and celebratory than this year's Oscars. What can Academy Awards producers learn from television's biggest night?
Welcome to For Your Consideration, HuffPost Entertainment's breakdown of all things Oscar. Between now and March 2, 2014, executive arts and entertainment editor Michael Hogan and entertainment editor Christopher Rosen will chat about awards season and which films will make the most noise at the 86th annual Academy Awards.