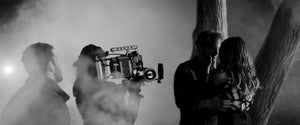 BANNERS just dropped his music video for "Holy Ground," and it is amazing. It features Ashley Greene, widely known for playing Alice Cull...
At AMC's grand finale screening in Los Angeles on Sunday evening, I witnessed some of the red carpet hullabaloo and general fan hysteria behind the award-winning series.
Would Butter be a funnier movie if Michele Bachmann were still at the center of the American political conversation?
Despite having watched a vampire-human baby tear itself out of Bella Swan's womb -- not to mention the horror of having to call said baby "Renesmee" with a straight face -- Ashley Greene found that doing a comedy for the first time, in Butter, was "terrifying."
One week after ParaNorman took a more light-hearted, but still pretty scary, look at the situation, it's back to the 'burbs for The Apparition.
Turn on any TV in our house and it's invariably on a station that has a talking animal of some sort. At the end of the day, we might find out from som...
On Tyler Shields' website you'll see a snarling Zach Quinto drenched in milk, Twilight's delectable Ashley Green tied to a live train track, and Lindsay Lohan dripping in blood.
Twilight is upon us! From the frenzy surrounding the release of the second movie in the smalltown-teen-vampire-romance series, you'd think someone had opened a vein.