For W magazine, by Mia Adorante. Photo by Meagher/Getty Images. W editors share who they'll channel if they make the ch...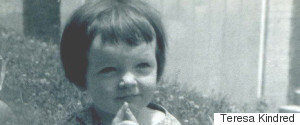 Had I just uncovered a conspiracy? Were all moms in the 50s and 60s trying to make their daughters look like tiny replicas of Mamie Eisenhower?
I like bangs. Long, but not too long. And fringy. You know, like that actress. You know... her. But only in that one movie, not the other one.
It was the year of the winged bangs and I was hell-bent on having them. Despite being born with a headful of ringlet curls and living in an oppressively humid climate, I wanted to belong. I was 14, it was the '70s, and a world of adolescent males awaited me. That is, if I could tame my damn hair.
Although some parts of the country are still experiencing the last grunt of winter chills, here in L.A. we are seeing more "colorful" effects.
I may be a busy mom juggling work, soccer schedules, grocery store runs and never-ending piles of laundry, but I do my best to keep up on important world events. And, today, a little celeb-surfing led me to discover some truly notable news: It appears Suri Cruise has cut her own bangs.
Forget keeping up with our kids' gorgeous long, luxurious locks. Move over, 20-somethings with your silky hairstyles. We 50-somethings are taking center stage as trendsetters for what looks good at "this age," and we are taking our cues from our first lady.
Lamorne Moore plays roommate Winston on New Girl, and our guest hosts Lance Bass
When I sat down to get a haircut in May, my hairdresser Ryan said, "Wow... your bangs are so long. If you ever wanted to grow them out, now would be the time."
Mrs. Davy Jones. This is what I wrote all over the inside front over of my three-ring notebook in 7th grade. I couldn't write it on the front cover because that was plastered with "Mrs. Paul McCartney."