I will offer one backhanded defense of the Danes. Denmark is the original home of the Little Mermaid, and she was pretty hot. So if you believe in mermaids and consider them animals, I can kind of see why you might want bestiality to remain legal in case you ever happen upon a flippered femme fatale.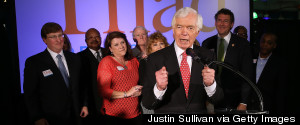 Last night, Senator Thad Cochran pulled off an upset of sorts, by defeating his Tea Party primary challenger in the rematch atmosphere of a "top two" runoff election. His chance of victory had been seen by many (at least before the election results began coming in) as increasingly unlikely -- which is why the political world is abuzz over what just happened down in the Magnolia State.
All the free-floating iniquity released by the passage of same-sex marriage legislation in my home state is filling me with the urge to tie the knot with my beloved Max. That got me to thinking about what, exactly, might happen if the county clerk declared us Mr. and Mrs. Kitty.
The next time you feel tempted to turn to pedophilia, polygamy, and bestiality as a go-to argument against marriage equality, I want you to repeat the words "two consenting adults" to yourself 10 times, and then find another argument.
One hopes the irony of having an a political organization with a name like Bundesrat pass the ban was not lost on the German electorate.
I'm pretty sure Rick Santorum lied to my face on Friday. I started to ask Santorum about his quotation comparing loving homosexual relationships with bestiality. He broke in: "Read the quote." He hadn't compared the two, he claimed.
COURIER: Uh, I'd like to buy some porn.for a, uh, friend. He lives in a large, walled-off compound in the suburbs of Abbottabad. It's kind of like the Playboy mansion -- minus the Bunnies, of course.
Usually I steer clear of politics. Normally I follow Mr. Ed's wise dictum "don't speak unless you've got something to say." But in the case of my old buddy Carl Paladino, I can remain muzzled no longer.
Farmed animals endure abuses far worse than even the most horrific things we might think of when we hear "slaughterhouse" or "factory farm."
This meeting of the Virtual Tea Party (VTP) will now come to order. I hope you all got the notice on Facebook and I can see some of you are Tweeting n...
Stop debating whether or not gay marriage will open the door to polygamy and bestiality, and understand that marriage is an ever-changing arrangement to meet individual, social, cultural, and religious needs.
"If we change traditional marriage, it's a slippery slope," said the man at the table next to me. "Soon we'll have people marrying animals." I'm not aware of any man-horse association that's lobbying Congress or state governments to allow bestiality.
Obama's choice of Rick Warren to give the invocation at his inauguration is dreadful. His explanation is even worse. He shrinks Warren's statements about gay people down to a "disagreement," as if we're talking about ethanol subsidies.