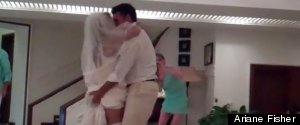 Riding a mechanical bull in your wedding dress may not make the cut of the music video -- but it sure will be funny to watch on your anniversary.
After quite a few years of attending TV markets, I can honestly say -- it's great fun. You learn a lot during the meetings at the stands and some of t...
One of the best parts of Thanksgiving for me is re-watching some of the classic holiday blunders that have been depicted on television. Whether dealing with the drama of in-laws or botching a traditional family recipe, these are some of my absolute favorite outrageous Thanksgiving blunders on TV.
This question originally appeared on Quora. Answer by Michele...
These clips also remind me how thrilling it is to be all alone in great places and how we have no control over who veers into our shots.
Watch intently as the love triangle between Edward, Bella and Jacob unfolds throughout a slew of amusing comedy sketches, animations, and remixes, including the classic Bad Lip reading, trailer spoofs, emo vampire song, Barking Dawg Paw 2 Petody and, of course, "Jacob, keep your shirt on."
Although politicians are famously buttoned-up and skillfully practiced in the art of careful spin, they have also been the source of some of our best entertainment -- and laughter -- over the past half-century.
As the year winds down and Fear No ART takes a break for the holidays, I wanted to bring you the funniest outtakes from all of our 2011 shoots. Enjoy these mess-ups, goofs, bloopers and laughs that are all usually edited out.
Last week, the nation's leading commercial design expo -- NeoCon (formerly NeoCon WTF) -- came and went for it's 42nd year in Chicago's historic Merch...