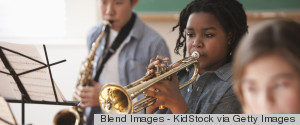 Art and music convey important skills that often are overlooked. Researchers have long touted their positive effects on student brain growth and development, but the exercise of those skills in artistic pursuits like band and chorus adds a whole new dimension of teamwork, perseverance and commitment.
Art integration or teaching all disciplines through the arts, is gaining credibility in San Diego, and the Young Audiences effort here portends yet another victory for those advocating more art integration in the schools.
While we must be prepared to seriously tackle the issue of schoolyard bullying, we must also start to look at this through a different lens.
If teaching were just a pathway to wealth and respect, no apology could compensate for the insults and the damage that Arne Duncan has helped inflict on teachers. Teaching, however, is an act of love.
Teacher Appreciation Week soon will be over. Will America's teachers continue to be subjected to degradation and prevented from having a meaningful say in their profession? Or will their dedication and desire to help kids be respected?
The indecisiveness that has been found in Connecticut has left a generation of youth facing one of the biggest uphill battles in the nation.
We all have an interest in ensuring that our children's teachers are effective, but we must help them sharpen their game, not just keep score.
The "Save Our Schools March" that took place last Saturday might not have been large in terms of participants. But more important was the enthusiasm and determination conveyed by those who attended.