My confession: Using eyeliner on your lips as a way to prep and prime them for lip colors is actually more effective than using normal lip liner.
We have all been there before. Stuck at work with dinner reservations only half an hour away. If you don't leave in the next ten minutes you are sure to be late.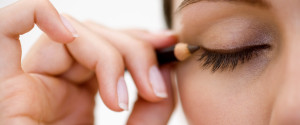 By Renee Jacques, Allure (Photo: Kyle Ericksen/WWD) Here's the scene: It's Friday night, and I break out my liquid ey...
I am always on the hunt for cheaper products that are comparable to their more expensive versions. There is just something so satisfying from getting the same $65 look from a foundation for only $15. That being said, I have found products out there that are definitely on the pricier side but really do live up to the hype.
Being new to makeup doesn't mean you need to learn about everything all at once. In reality, there are only a few essentials you need to add to your kit if you are just starting out.
The goal of this interview should be to demonstrate your competencies, qualifications and attention to detail; however, you should be prepared to look the part.
Naturally, it is a desire of many women to have big, youthful looking eyes. Unfortunately, nature does not always cooperate and we are not all left with our ideal eye size and shape. The good news is that it doesn't matter whether you have small set eyes or you just want to make them pop.
You don't have to be a professional to apply makeup that looks beautiful and natural.
Before we begin this week's political wrapup, please be advised that President Obama's speech on reforming the National Security Agency won't be cover...
These grade-A eyeliners will turn you into a devoted pencil pusher.
Most brands make one or two shades -- usually named after syrup flavors like mocha or caramel -- neither of those work for me.
Spring is just around the corner. Time to break out our breezy dresses, light-as-a-feather scarves and pretty sandals. It's also time to re-evaluate our makeup routine. The days of winter where we needed thicker foundation and dark, smoky eyes are behind us. It's time for fresh-faced beauty.
As a makeup lover, product junkie and eye-health blogger, I've become a bit obsessed with waterproof liners.
Even a whisper-thin line skimmed just on the lash line will give you more arresting eyes, but I'll bet in no time you'll be wanting to go thicker. Heavier. Hotter. Smokier. To get inspired, try my simple eyeliner techniques.