Cartoon credit: DonkeyHotey via ...
My Mom, who describes herself as "an antique", has much wisdom to share. What she believes is the bottom line on Amendment 2 -- compassionate care for all -- is what Florida voters should rest their vote on. Needless to say, I completely agree.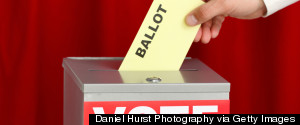 Latinos in Florida suffer from being unable to afford quality health insurance. When you actively work to undermine efforts to bring affordable coverage to Florida, you will inevitably alienate and antagonize the Latino electorate.
537 people decided the fate of the election in 2004. If it comes down like that again, why not be one of them?
Twelve years ago, Florida exposed the many administrative, structural and procedural flaws in how we organize and run our elections. Yet instead of fixing these problems, we multiplied them.
President Obama should truly be worried about Florida because from the view on the ground, honestly, it just doesn't look good for him. Look at it this way. There are three Florida's...
"Are you any better off?" resonated throughout Mitt Romney's Republican nomination acceptance speech Thursday night at the Tampa Bay Times Forum in Fl...
If there were contested general elections in every political race, there would be no talk of mandatory term limits because the voters would have a greater ability to vote out of office those who did not deserve to be there.
It's Florida's turn for re-districting, and developments in Tallahassee since 2010 have put the state squarely in the national spotlight. What's at stake in Florida today goes to the very core of the electoral process - and democratic accountability itself.
To really lure Hispanics, Romney said he'll veto the DREAM Act, which would give some undocumented youth a path to legalization, and Gingrich said he'll veto only half of it. Both promised English only in government.
"Honestly, I [registered] Republican because my family, who has been here for years, is. The truth is, I haven't heard anything positive from these candidates. All they do is fling dirt at one another," Hernandez said.
Romney turned the tables on Gingrich in Florida through some smart tactical moves -- including an extraordinary early voting effort -- and an all-out blitz on Gingrich. They have been dropping pianos on Newt for 10 days and it has politically destroyed him.
TAMPA, Fla. -- Here's a good description of the disorganization bordering on chaos that regularly surrounds Newt Gingrich's presidential campaign. Th...
The tragic course of George W. Bush's presidency began with what might have well been one of the great accidents in American history -- his flawed election.
Growing up Jewish in Western Pennsylvania, there were always two things I could count on: Jell-O being served at all family gatherings and having a g...