In the sustainable development priorities for the next 15 years adopted by heads of states in New York this week, the United Nations has highlighted financial inclusion as an important enabler for poorer households in the informal economies of the global south to increase resilience and better capture opportunities.
To be clear, we are not suggesting ending the use of fossil fuels tomorrow. Decarbonizing our industries, homes, transportation, power generation and food production will take time. But we must make this transition as quickly as humanly possible.
After decades of pollution, it is clear that the rich countries of the world, particularly the countries of the G7, must act to stop pollution from coal -- the biggest contributor to climate disruption.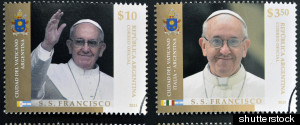 Despite 21 years of disappointments and near misses, I see reason for great optimism that the world's 193-nations might just agree to meaningful, measurable reductions of carbon pollution.
Last week, at the G7 Summit, leaders of some of the world's largest economies pledged support for the UN Guiding Principles on Business and Human Rights (UNGPs). This is an important and welcome step toward the state protection of human rights, but it's just the beginning.
This week, the G7 leaders convened in a Bavarian castle and announced a landmark commitment to phase out fossil fuels by 2100. This is a hugely important step on the road to, as Angela Merkel put it, 'decarbonizing the global economy in the course of this century.'
I'm in the midst of an exciting and exhausting round on the conference circuit which has taken me across the continent and back. This week I'm in South Africa participating in Global Entrepreneurship Week festivities. Luckily, I have had plenty of reading material for the plane rides.
While international and domestic problems bombard us daily, strong signals indicate that a new kind of revolution is afoot that has the potential to open doors to people who have been left out of jobs, and the mainstream economy.
With world leaders, east and west, voicing their concerns to China, it may well be Japan's strengthening of its neighbors, such as the Philippines, Vietnam and Indonesia, that will give China pause.
When the rich man's club of nations expanded from the G7 to the G20, a new element was added. Instead of being about money and trade, the G20 is about something else: aspiration.
The enrichment of uranium by Iran is not a violation of the Nuclear Non-Proliferation Treaty, and it is generally acknowledged that the NPT gives Iran the right to enrich uranium.
Mr. Nakagawa may be Japan's worst Finance Minister ever, but that doesn't stop me from taking a moment as he leaves the world stage to bow my head in empathy.
"People assume that when we hold a rally, angry white people just magically appear, but that's not the case," said McCain aide Hardin Carley. "The fact is, a lot of planning goes into this."