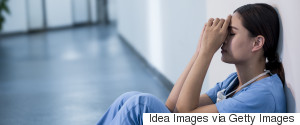 We all take you, our patients and communities, home with us at night. But please also know that our lives are never the same either. Every patient encounter alters us -- sometimes subtly, and sometimes drastically. We are changed, and we never forget.
The potential for violence lives within all of us, and I'm no exception. Violence in my novels is contrived--it's pure fiction--but reflects a core truth about human nature. It's never meant to be gratuitous, but rather serves the story.
As "Sandy Hook Moms," we often hear the phrase "I can't imagine what you are going through." Well, please imagine it. Imagine what it's like to lose a son or daughter to gun violence and encourage your elected officials to do the same.
This Mother's Day, I will go to church and spend time with my mother and my son, Calvin. Calvin and I will reflect on the fun times he had my other son, Casson Xavier "Biscuit" Evans, who was killed in a drive-by shooting when he was only 3 years old.
Why in heaven's name did we stay on the sidelines; why not share our grief and our tragedy as a warning to everyone that losing a child to senseless gun violence is indescribable? As the saying goes "I wouldn't wish this on my worst enemy."
It's hard to feel safe when there's a gun around. I don't think I'd feel any more safe if i had a gun in my hand, and I would rather die than kill. I would rather be shot than murder.
If criminals have guns, I don't see why I can't have one either. It's for defense. You can't rely on cops because they're there after the crime has happened -- not in the seconds that matter.