With affordable salons popping up all over the city, this once costly option is now barely more expensive than a high-end waxing salon. So, for those of you thinking of joining me in Laserland, read on for helpful tips for embarking on your own laser journey.
Summer = bikini waxes. So, does summer = painful things like ingrown hairs and irritated skin? Not necessarily!
I have a pair of strappy sandals that to put on requires a contortionist's skill. It involves sitting down, bending over, hinging a knee sideways a...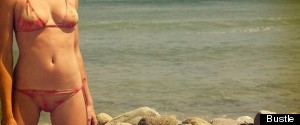 Lately, I've been thinking a lot about my pubic hair. See, after a winter of letting things grow wild, it's time to think about the upcoming months. And this year, I'm especially conflicted.
Women have hair on their legs. We have hair on our armpits. And on our pubis. And in a thousand other places. We're hairy, the same as men. And that's real. A reality that women, pressured by one another, insist on hiding.
Much like Dexter Morgan, the lead character of Showtime's serial killer series, I go about life with a "dark passenger" in tow. Except what's haunting...
You know it's a friendship you should keep when you show up to her house 25 minutes late, toss the contents of your purse all over her sparkling clean table and announce "WAX IT ON THE COUNT OF THREE!" and she obeys.
Here's why I stopped picking up the Gillette.
Technology isn't just for the dermatologist's office anymore. At-home devices for beauty and skin care are becoming increasingly common. But sometimes...
How many times in my life have I laid flat on my back with my legs spread in front of a stranger? I'm not talking about my love life, Friends. I'm talking about hair removal.
Can men get rid of unwanted hair without popping Xanax? Here are your manscaping options, with a little commentary thrown in for good measure.
A few weeks ago on Entourage, Turtle was thrown off by his girlfriend's lack of hair down there, saying he'd never seen a girl who was completely "sha...
Sugaring, a technique that dates back to the days of Cleopatra, began as an indulgent pampering treatment for young Egyptians. A pliable sugar paste is applied to the skin and flicked off by a technician.
Women in Egypt (Part Three) "I love him," murmured my veiled masseuse in a husky voice, as she massaged my shins. "I love him but I cannot marry hi...
Nair recently launched its "Pretty" range for, in their own words, "first-time hair removers." Girls as young as fifth grade are being targeted for wax and chemical hair removal -- and in fruity fragrances no less.