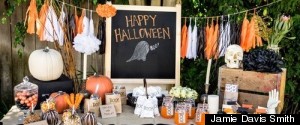 I'm not ashamed to admit that Halloween is my favorite holiday and it's been even more fun since having kids. Halloween is a great excuse to have a party. What kid wouldn't want one more opportunity to wear their costume?
Halloween is no longer just for kids. From boozy costume parties that go late into the night and (delicious) spirits of all kinds, it's pretty fun being an adult this time of year.
It's finally October, which means the countdown to Halloween is officially on. Some part of you wants to reminisce about the hysterical costumes of your youth, and where better to share some spook-inspired memories than at the local haunted watering hole?
The Hawai'i Food Policy Council invites you to the first annual Frankenfood Party on October 25th! Sweet Home Waimanalo will be hosting this terri...
While I was writing my last blog on why I love Halloween, I turned to Kelly for her input and she and I had a nice time reminiscing about the past. The more we talked the more I realized the best way I could explain to you what a typical Davis Halloween was like was by having her help me!
One of my favorite projects for Halloween is crafting a table full of miniature paper baskets.
Halloween is the fastest growing gifting holiday. And really, who can resist with all the amazing things out there around this special ghoul-y day?
I'm always a little horrified by the excessive amount of calorie heavy, sugar loaded, garish food and décor you see everywhere before, during and after Halloween. There are so many fantastic opportunities to design sophisticated details for this favorite autumnal holiday.
Here are my Top Three tips to help you to use the party atmosphere to get the girl you want, and keep her by your side throughout 'cuffing season.'
Halloween is just a few weeks away, but this year I'm not into the typical orange décor full of candy corn and trick-or-treaters. No thanks. This year, I want to spice things up with an adult dinner party -- vampire style.
Where once the King of Halloween confection was Candy Corn -- selling 8.3 billion kernels a year -- planners of today's Halloween parties lobby their new faves: the latest in gross and disgusting party food.