We were not only going to a private wolf sanctuary, Aventuraid, but also to an animal wilderness park - Zoo sauvage de Saint-Félicien. The zoo was in a stunning boreal forest, and we looked forward to experiencing a camping, canoeing and hiking adventure.
Squats on the playground? Ab crunches during movie time? It can be challenging to fit in workouts when you're playing and entertaining your kids. Here are six creative ways I turn playtime into workout time with my daughters.
They may look like passive viewers, but their absorptive minds are far from inactive. In fact, a new study suggests the little critics silently pass judgment on animated characters just as adults rag on fictional humans. Specifically, kids fat-shame cartoons.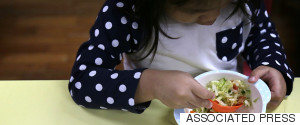 According to Feeding America, 43 percent of counties are rural, but they make up nearly two-thirds of counties with high rates of child food insecurity. The consequences are significant.
In retrospect, I do remember that when I used to pick my daughter up from dance class she was rarely, if ever, sweaty. Guess that should have been a red flag.
If you ask Chloe what I do, she will probably tell you that I "help people learn about healthy food." What I am trying to avoid is her thinking that the crucial part of being healthy is weight loss and that weight loss is always a good thing.
If it is your nature to compete, compete against yourself. Set your sights on being a better parent after your divorce than you were before. Don't fall for the fake; remember that you're playing the long game -- the one where "winning" involves raising your kids to be healthy adults
Though the reasons for poor sleep vary, many parents worry that media and technology interfere with bedtime routines and sleep.
If you're curious to know what purpose is and how you or a loved one can get it or discover it, you're not alone.
The traditional Bake Sale has long been a cornerstone of schools. As early as Pre-K and as late as Senior year in high school when the class field trip needs to be funded, we bake for sale. From early childhood when kids begin to learn the building blocks of their core beliefs, through high school when teens question everything, the one constant message is that promoting and eating sugary snacks for fun is a way of life. But should it be?