Let's celebrate love and marriage for what it can be. Let's understand there are many different types of love to be experienced before you feel you've reached the ultimate love in your life. Forever can be a beautiful thing.
It's not often that we get second chances in life, but when we do, this is the moment we need to make the most of. Many times we don't see it coming, but life decides to throw us curveballs when we least expect them.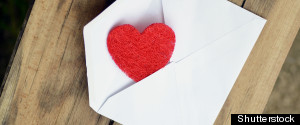 By November, 2013, I had lost both of my parents to cancer and was left to clean out our house. From notes penned on the back of receipts from my father to my mother to birthday cards from mom to me, there were plenty of heartwarming keepsakes -- most of them ugly cry-inducing. Then, there were those that made us laugh.
This past Monday was National Middle Name Pride Day. But middle names weren't always popular in the United States.
I saw the photos the paparazzi snapped of you leaving yoga class and the way the media twisted those photos into something negative. But you continued on, seeming to not let the media's obsession with your weight impact your desire to be a positive role model for other new moms. And that's where our bond comes in.
There's Dakota Fanning...'going bad' so Marc Jacobs can sell some perfume. It smells great, by the way. Why did she do that? I mean, she was SUCH A NI...
Hilary Duff likes a good challenge. The number of former child and teen stars who manage to sustain success into their twenties, as Duff undeniably has, are few, but even rarer are those who then develop into serious adult actors.
To paraphrase a famous quote: "Hilary -- I've seen you act, and I've seen Faye Dunaway act, and Miss Duff -- you're no Faye Dunaway." This truth is of course self-evident if you watch Faye in her prime.
Friday on newsstands, People magazine will show the inside details of Nicole Richie's nuptials to Joel Madden -- including her dad Lionel Richie, her ...
We catch up on the latest celebrity comings and goings.
With a quickly revolving soundtrack and an enthusiastic crowd, the show is one of the best shows of fashion week by far. For these stars, walking the catwalk was a piece of cake.
Every once in a while, you realize you're witnessing one of those crises in American colloquy that threaten the very fabric of society. The Hilary Duff-Faye Dunaway tiff is one such event.
Think before you speak: GLSEN (The Gay, Lesbian and Straight Education Network) deploys actress-singer Hilary Duff and Comedian Wanda Sykes to speak...

Hilary and I did these songs in one session in LA and one in Bulgaria. She was in character the whole time and a delight to work with.
Cusack's new Film, War Inc., is a powerful, visionary response to the cheerleading culture of the corporate media and a pliant Hollywood afraid of its own shadow.