It's time to join in and go green, with these 12 quick and fun St. Patty's Day wreaths that are perfect for a family-wide DIY.
As the New Year's hype starts to cool down, you might have begun to notice that February 11th isn't too far off, and, as a Parks and Rec junkie, you know what that means -- Galentine's Day, the day to enjoy your womanhood with your besties!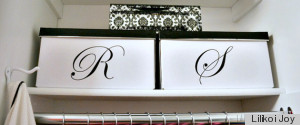 Part of the battle to clear the clutter is finding the space to store all those items you need to keep! Instead of building a storage hut in your backyard, or filling your attic with boxes you'll never open again, find all the storage space you need in your home, with these insightful space-saving ideas!
Stylish patios are easy to create and popular for creating outdoor extensions to the home. They allow you to enjoy the outdoors in comfort, and outdoor living has never been more a part of our everyday living!
Make sure you remember the seven Ps when you get started.
Save yourself a lot of time and money.
While I am known for many things, do-it-yourself projects are not my expertise. That is exactly why it is important to have good friends like Carter Oosterhouse, as he is that go-to guy that everyone needs in the name of all things design.
In need of a nightstand, and not wanting to spend any more money or add to the waste, industrial designer Adrian Candela turned old IKEA boxes into new furniture.
There are plenty of reasons to consider using plywood for your next DIY project.
I'm not sure that I have the strength to kick this napkin habit.
An eclectic display of frames can be incorporated in just about any room.
I've somehow accumulated way too many golf balls over the years and I know I'm not the only one.
Giving your kitchen a fresh new look doesn't have to cost you thousands of dollars.
While no two DIYers (Do-It-Yourselfers) are alike, in general they're an upbeat and friendly group that shares a special trait: the courage to screw up.