Our style team dreamed up clever (and totally doable) treatments to help you turn a boring bed into a luxurious haven of self-expression.
Your home is temporary and there are restrictions on how much you can change it...until now! With these 13 genius renter upgrade ideas, you too, fellow renter, can totally remake your space, without breaking the bank or your walls!
Tired of making the same old bed? Time to shake things up.
The trick to mastering a look that is really chic and totally comfortable? Limiting each room to a lean, primary-studded trio.
By giving your property a home makeover that zeroes in on the details, you can quickly upgrade it from hovel to haven without draining your savings.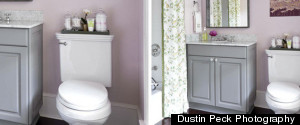 Truth is, if you've got a spare room, it's smart to always be prepared for visitors: both the invited and the unexpected drop-ins. That's why we put the challenge of redoing this guest room-bedroom and bathroom-in the hands of the ultimate tag team.
We celebrate great design all the time, but there's a specific part of it that we're addicted to: makeovers. A tiny breakfast nook transformation. An easy kitchen redo. Entire home renos.
With the idea of being independent, strong and competitive in a world where external factors seem to always be getting us excited about the next big thing, a lot of accomplished people have forgotten about their homes.
Whatever your style is, always remember that decor inspiration is literally everywhere... even in your favorite store!
There are a few fabulous-and surprisingly affordable moves you can make in your home that can easily transition it to spring. The key is to do one simple thing in every room.
There are five simple and easy changes that you can make now in your kitchen, bathroom, bedroom and living room that can make a world of difference to the health of your skin, hair and nails.
Chartreuse? Tangerine Tango? Oh darling, you jest! So, earth tones are best. A couple of pops of color do the trick to make it feel current and hip. Note, guys don't do the pillow karate chop, either... just saying.
With Ash Wednesday, a season of spiritual inspection and makeover begins that involves our lives, our communities, even our worship space.
One June day, I decided to do an overhaul of my master bedroom. Paint, built-in furniture, lighting, the works. I do one-day makeovers all the time; I can do this with my eyes closed, right?
I have become quite skillful at pulling off the One-Day-Makeover-That-Really-Takes-A-Month in less and less time. If you follow my tips, you can too.