As a society we talk about outsourcing, downsizing, and retraining but not specifically how important is for everyone everywhere to learn some coding skills. The world as a whole is barreling down a path where those who know how to code will own those who don't.
I ran around the house this morning making sure the Java plugin was turned off in all our web browsers on all our computers. Why was I so panicked? Because the Department of Homeland Security issued a warning late this week about Java.
We as consumers are too used to being treated like we are an inconvenience. In this economy, there are small businesses starving for work. There are people who take pride in what they do and there is a change happening.
I don't have a fear of public speaking, but I am terrified of publishing; as a version of the cliché goes, I'd rather be the subject of an obituary than its author. And yet every morning I wake up, check my email, and search for the subject line: "You won the Listserve Lottery."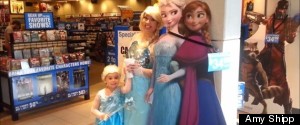 What 4-and-a-half-year-old girl wouldn't want to spend a day with Elsa from Frozen? Certainly not Ariel Shipp of Jacksonville, Florida. And luckily for her she had the opportunity to do just that last month, though Elsa bore a startling resemblance to her mother, Amy.
Using the tools of the modern age, the deaf community is able to amplify its voice. Finally, the mainstream world is staring to listen.
No doubt some millennial whippersnapper will ask why, if you have a cell, anyone needs a wired home phone. Okay, maybe one line for fax but an actual non-battery table-top phone -- no way.
Big Bang XIII, a forum for exploring new ideas and new technologies was a different event than its predecessors. Instead of introducing attendees to s...
Children between the ages of 8 and 18 spend, on average, more than 7.5 hours a day in front of a non-school-related screen. Given the busy lives children lead these days and the reality that there are only so many hours in a day, this statistic is almost unbelievable.
You can never, ever get the advertised price because it doesn't include many of the fixed costs, like the set top box, not to mention it is littered with pass-throughs of the company's taxes and fees, including the cable franchise fees.