The weather in most of the country has turned warm and even hot in some places. Yesterday I was walking for some "cooped up, crazy and need to get out...
By making this a life change you won't just do what's necessary. You'll incorporate healthy habits into everything you do, which will give you that continued success. You won't make those same bad decisions because that won't be what you want for your new life.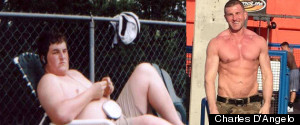 I was fortunate enough to befriend and get inspired by a 76-year-old neighbor who became like a grandmother to me in this challenging time. She worked out every day at a gym, walked at the park, was in fantastic health and told me of the promise for my future if I would just change my mindset.
Tell a young woman that she is beautiful when she is under 100 lbs. and see just how willing she will be to watch that scale tip. Remind her of how thin she is every time you see her, and she will do anything in her power to remain that way.
I've gone and reinvented myself. Again. But this time around, the new version of me doesn't have a new pen name. What I have done is lose more than 55 pounds over the past seven months.