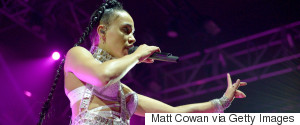 Posted by actresses, models and musicians, the new breed of braid consists of endless permutations, all of which turn would-be simple styles into cleverly zig-zagged art.
Shot by David Sim, it stars nine of the most talked-about models in the game -- a glimpse of which we got back when the first image was released back in December. Now, after much anticipation, the label has released the full campaign, and as expected, it does not disappoint.
Love them or hate them, it doesn't seem like the "selfie" is going anywhere anytime soon. So for the foreseeable future, we must prepare ourselves (and our faces!) for the impromptu iPhone shoot.
I'm all for experimentation and these ladies are proof positive that taking the occasional gamble with your makeup statement can pay off beautifully. New year, new you?
I've found one place that would make me think twice about becoming a model (if, of course, I was a foot taller and coordinated enough to stomp down the runway in those monster heels) -- Modellounge x Microsoft.
While the average woman won't be stripping down to her skivvies alongside Justin Bieber on national TV this December, the holiday party season calls for scene-stealing glamour and a hint, if not a generous helping, of sex appeal.
Every season I threaten to retire from the Fashion industry. Twenty one years later I am still in it, and see no immediate exit to this fulfilling career of mine. As I see it, working in the Fashion industry is like being married.
Mercedes-Benz Fashion Week at Lincoln Center is the fashion world's most immensely influential and endlessly-watched spectacle.