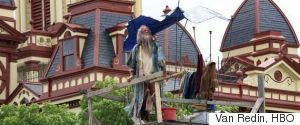 This Sunday is the airdate of the final episode of Season Two. Will all our questions be answered? Since I am shown script pages only for the scenes that Pillar Man appears in, I know little more than any other fan.
Count on Gilbert Gottfried to bring in the guests that you didn't realize you've been dying to hear. This week the guest on his Amazin...
Wouldn't it be heavenly to be able to decode compatibility on a deep, long-term level? You can, and it's as simple as knowing a person's birthday. Numerology is the ancient study of numbers and their influence on events, cycles and patterns in our lives.
The saying "Be careful what you wish for" has that built-in caveat that should alert viewers of season two of HBO's often dark but seductively captivating drama, The Leftovers, which premieres on October 4.
On Thursday, January 29th, I scrambled into the U.S. premiere of Canadian writer/director, Lindsay MacKay's independent feature, "Wet Bum." This was my second attempt to see this film as the first one had been full!
Honestly, I feel like the whole damn world has gone mad, and I can only hope that as the weeks pass -- like with a new lover you foolishly think is The One--this show will be seen as the dumb, overly-dramatic charlatan it is.
It's a simple equation -- you take a good writer and a good subject and you get a good book. Such is the math for The Good Bishop by acclaimed writer and essayist Phyllis Theroux.
"Jen's about to get married and finally in a good place and Angelina is clearly trying to overshadow that with the details of her mastectomy," says one source. "It's like she's still trying to rub it in that Brad loves her, even without her boobs."
This past weekend, Jennifer Aniston's engagement ring emerged from the press-proof bunker in which it had been hiding ever since Justin Theroux proposed marriage to the actress on August 10.
This needs to be fixed before your wedding day!
Jennifer Aniston never allowed herself to fall into the habit of typecasting a boyfriend, repeating the same negative patterns and thinking there was only one kind of guy for her.
Werner Herzog takes a steamboat over a hill in Burden of Dreams, Les Blank's clear-eyed documentary about the hubris, ambition, and danger fueling the making of Fitzcarraldo.
Even super-heroes suffer from sophomore slump and Iron Man is no exception.
In the Marvel universe, it's not really a they/us kind of environment, the way they work. It's just a bunch of guys and girls sitting in a room, trying to come up with what's right for the movie.