I don't often write about good dates. Let's be honest, the crappy ones are far more entertaining to read about than the ones that go well. Also, the sad state of reality is that there are for more bad ones than there are good. But every now and again, a date surprises me, coming out of nowhere to restore my faith that there are people out there whom I just might get along with.
The reboot of Ghostbusters opens this week with a stellar all-female comedic cast including Melissa McCarthy, Kristen Wiig and Kate McKinnon. Direc...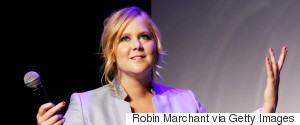 Amy Schumer's Trainwreck introduces us to a new kind of mainstream film heroine: blunt, thoughtless, more interested in being gratified than likable, one whose boundless appetites are played for fun rather than derision.
Against all odds filmmakers continue to make fine works, adapting or creating stories not from comics or video games but exploring the human experience on our own planet.
During his final show, Jason Sudeikis starred in zero sketches then gave us two months of silence. This, apparently, is the way he wanted it -- and as we saw during his tenure on "SNL," Sudeikis had the tendency to do what he wanted.
If Mick had not been so profitably good at his day job--rock and roll singer--he would have certainly made a bigger noise as an actor.
In just a few weeks, 22 worthy directors of many shapes and sizes will descend upon the beach town to bask in le soleil and the glory of their artistic achievements at the Cannes film festival. Not one film by a woman was nominated.
A female friend recently said to me, "Sexism in the entertainment industry is so prevalent that most people are blind to it, and barely notice it anymore." This friend has been a Hollywood insider for decades, and Emmy nominated for her writing -- twice.
The Primetime Emmy Awards showed that women writers on a comedy or variety series are a rare and endangered species. Only seven of the 81 writers were women.