"You don't look Mexican. You're so light-skinned," he says. "Like, I would have thought you were from Spain or Eastern Europe. I never would have guessed. Congratulations!" His jaw is very open right now. He's in awe, but at what. He's congratulating you, but what for?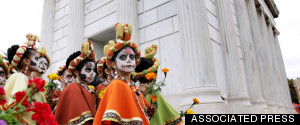 We all are familiar with Día de los Muertos -- the white face paint, the illustrations of grinning skulls, the panoramas of skeleton musicians and dancers. However, there is still great confusion in America about what this holiday actually signifies. Although it takes place at the same time of year as Halloween and shares the theme of ghostly visitors, there are fundamental differences.
Every week is banned books week for Chicanos. In Arizona, two Chicana high school students, Maya Arce and Korina Lopez, await word of when their c...
Hello, my loves! Are you longing for that natural butt lift? If so, the video below is just for you! Today I wanted to give you a sneak peek i...
Reservations to the resort... check. Vacation time off from work... check. New swimsuit... check. However, a sudden wave of emotion hits you because unfortunately you remember that your body isn't in check and you feel as though you don't look your best.
I'm looking forward to continuing to watch all these Olympic Games. I'll be looking to see the many other Latinos that will be competing to prove what the census data and demographics have been showing, we are here to stay.
One of the distinguishing characteristics of our community is its oral tradition, a conveyance for news, stories, myths and traditions, and a conduit for conversation. The usage of public spaces for this conveyance is still viable in our communities.
It looks like a more systematic outreach from the Catholic Church, a general awareness that public schools are not proving the best quality of education and the voucher programs are changing this decreasing dynamic.
I've always said great leaders deal in hope. And that's what Maria Teresa does, hope to inspire, educate and mobilize young Latino voters. Hope to provide young Latinos the opportunity to leverage the astounding numbers of our population.
The issue of Girls' homogeneity, especially in a neighborhood like Greenpoint (which is still culturally diverse) has been debated in the media since the release of its pilot episode, but as a Latina and first generation New Yorker, I am here to tell Lena, her stories do apply to me.
was literally backed into a corner of the exhibition by three large scary braided-armpit-hair Chicanas wearing overalls. They reminded me of my Aunt Bolita, somebody you would never want to mess with in life. "Where's all the political art!!"