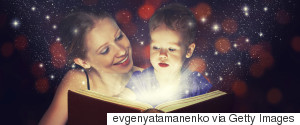 Was I cross at my mother when I found out Father Christmas wasn't real? Did her lying to me destroy her parental trustworthiness? No. There was a sense of sadness losing Santa, but I would not want little me to have truth over hope, over magic.
Folks, it's important to support women in tech. According to the Bureau of Labor Statistics, 68% of women enroll in college (compared to 63% of men), ...
"Bam, Bam, Bam, I am spinning a web on you." This is a constant daily occurrence in our house. Since going to his first year of preschool, my son has become a big fan of Spider-Man.
From Shirley Temple to Drew Barrymore, young girls have loved to dress up and entertain. I'm going out on a limb here when I say stage moms are like cosmetic surgery, you only really notice the bad ones...
"Scary" anything -- especially when it's blaring out of every piece of technology in the house, from iPads, computers, TVs and iPhones to radios -- should be reserved for older eyes and ears.
I let them play because when they're my age and think back to being little people, I want them to remember days of endless playing, of made-up worlds and drunken laughter.
Real life can be difficult enough, being too realistic will only make you depressed. The best way to deal with reality, in my experience, is to bring as much magic to it as possible!
Eddie had been saying, "San-ta! San-ta!" all week, but now that he was face-to-face with the man, he just sat there and said nothing. He didn't look particularly happy, and yet he didn't look particularly sad or frightened. He simply sat there as if Santa's lap was a chair like any other.
Forget visions of sugar plums, Christmas gives me visions of future therapy sessions dancing in my head. Because someday is the not-so-distant future, I'm going to have to admit that Santa is a big, fat lie.
I will miss the princess aisle this Christmas because it will always represent my daughter's utter innocence. Her ability to believe only in the goodness of people and life itself. It will forever represent, to me, the unshakable confidence of being four.
I saw that my son, Miles, could use a fantasy character who was a reflection of himself --serving as a kind of magic mirror that would allow him to enjoy the fantasy while strongly identifying with the situations playing out in the show.
Is anyone naïve enough to believe that any network other than PBS would run Big Bird and Mister Rogers for as long as it has? No, it's not the paltry sum of money why conservatives want to get rid of Big Bird, Mister Rogers, and PBS. It's the values for which they stand.
When I was growing up (half a century ago), life was different. Telephones had rotary dials and did not double as game consoles. Kids sat next to the TV because we didn't have remote controls to change to the other three channels and rabbit ears needed constant adjustments.
A parent's job is not only to serve as a storyteller, but also to create the conditions for the stories of children to emerge.
"Satire" -- the word and its definition -- has filed suit against The New Yorker for classifying its cartoon depiction of Barack and Michele Obama as satire.