In the Minneapolis suburb of Columbia Heights, Minnesota, a community is reeling. Last week, their school board cast a vote that retained Grant Nichols, a member who came under scrutiny for allegedly posting derogatory comments against Muslims on his Facebook page.
Minnesota and Illinois share a common region, a similar economy, and even the same athletic conference (the Big 10). They both have billionaire governors. One launched a series of progressive policies, with great results for the business climate in the state, a stark contrast to the anti-working class agenda of the other.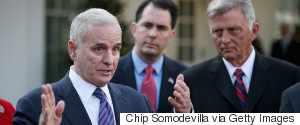 The next time your right-wing family member or former high school classmate posts a status update or tweet about how taxing the rich or increasing workers' wages kills jobs and makes businesses leave the state, I want you to send them this article.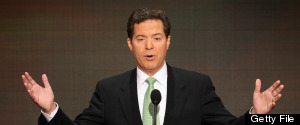 His state veered hard to the right on tax policy, and as a result its economy has underperformed the rest of country, and his budget is in shambles.
If these are just football matters, why are we seeing all the headlines about these men being cut for supporting gays and lesbians? It's simple: Because people still want to believe that the NFL hates gay people.
President Obama can't solve the climate crisis alone, and this momentum in the states is an encouraging sign for anyone who wants to see our elected officials address the challenge of our generation, our changing climate.
President Obama brought his campaign to curb gun violence to Minnesota on Monday, and the North Star State offers valuable lessons for a nation in the midst of a critical public debate.
More than 6,500 of our military men and women have died at war in the last 10 years, which is in stark contrast to the, well, none, who have been killed in a professional football game in the same period.
We can no longer afford to be so profligate with our transportation infrastructure and if we don't reign in these costs and creatively rethink these systems, the global economy will eventually force the issue. That's a bridge I don't think we want to cross.
Minnesota Nice, a much admired tradition of civilized debate and discourse that characterized the North Star State's political system for much of the 20th century, died this week.
The silly season has come early to Washington, it seems. The root cause is a simple fact of American politics these days -- sometimes, there just can't be transparency.
While Minnesota politicians may believe they are taking a stand on fiscal responsibility, now is not the time to be inflexible.
Minnesota Public Radio / University of Minnesota 9/22-26/10; 750 likely voters, 3.6% margin of error Mode: Live telephone interviews (MPR release) Mi...