Meet John McAdams. He's a former associate professor for my alma mater -- Marquette University. And, he's the center of a year-long controversy. ...
She's Rebecca Bradley -- and now she's running for a seat on Wisconsin's Supreme Court. ...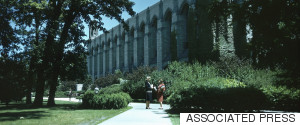 This past year will be remembered as the year that freedom of speech (or the lack thereof) on U.S. campuses became international news.
In order to move forward, we have to stop comparing and categorizing people. Muslims and Jews were and continue to be victims of anti-Semitism and Islamophobia. Yet, identifying with one cause tends to imply that you can't work with the other.
Schools all across the country not only fall short on promises of free expression and academic freedom but openly suppress constitutionally protected speech on campus by using tools such as speech codes to shut down forms of expression that might be uncomfortable, disagreeable, or even offensive to some members of the campus community.
If there is one thing we know about colleges in Illinois, it's that attending them is quite costly. Perhaps a lesser known figure is which university in the state is the most sought after by prospective undergraduate students?
When it comes to being a traveling author, it helps that I did so much theater in college, and that I've taught for many years as well. I generally feel comfortable as a performer of my own work -- and my own life. And yet there's always a trace of sadness on the road, too.
So what does the administration at Marquette mean when they say Dr. Jodi O'Brien -- who's openly gay -- lacks "the ability to represent the Marquette mission and identity"?
Citizens will pay a visit today to WellPoint's Indianapolis headquarters to protest the giant insurance company's abusive practices and its opposition to real health care reform.
There are differences between Obama and Clinton -- but even their campaign sites are thin on details and proposals.