"Don't wait to lose weight or until your life is just perfect to make changes. Pursue your dreams right now."
Sources close to the presidential candidate claim that Trump's problem with CNN and FOX is that "they're morons." In an effort to be represented in the most honest and fair light, it is reported that Trump has just bought his own network: Trump That Media.
Series were a staple of Lebanese TV, which aired its first programs in 1959, and became a money making export to Arab countries.
For those who think Caitlyn Jenner's only talent is learning how to walk, pivot and turn in six-inch heels, hold onto your Spanx.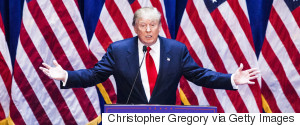 Ya gotta hand it to Donald Trump. Whenever he does something, he does it big. Huge...the biggest and the best!, as the self-aggrandizing Donald himself would say.
There's been a lot of talk lately about American exceptionalism. Who believes in it, who doesn't, why it matters and what it even means.
President Aquino has demonstrated that it is possible to be part of political dynasty yet be focused on the common good, and achieve enough in a single term of office to transform the country from the sick man of Asia to one of its leading economies.
As the authors detail in their books figure skating and pageantry are at a relative low point in popularity, especially compared to their previous highs of television ratings and press coverage.
Once a year, I close shop. And it doesn't happen during Semana Santa, but during a Philippine gay holy week, that is, Miss Universe season. It's been the case for as long as I can remember -- since my childhood in Manila, during which the street kids where I grew up would stage our version of Miss Universe in friends' houses.
Several weeks ago, Miss Universe pageant officials, naively or not, asked me if I wanted to come down for a few days for a Miss Congeniality-esque experience while the 88 women who had qualified from their respective countries got ready for the big night. Of course I did.
After the uproar over the lack of diversity in this year's Academy Awards nominations, it's good to know there is one upcoming television special that will showcase diverse faces: the Miss Universe pageant.