Your 15-year-old daughter is so excited and you are so proud; she is a contestant in a beauty pageant. Then Mr. Trump walks right in to gawk at her naked body, because he "owns" it. Picture it. Your kid. Your baby.
I mostly steer clear of writing political pieces, partly in fear of not completely understanding the complexity of the issues at hand, but mostly in fear of the impassioned and opinionated voices that will no doubt emerge from the woodwork.
Why a swimsuit competition was ever necessary to fund a scholar is beyond me, but it continued because of tradition; the Miss America pageant began in 1921 as a bathing beauty competition to extend the tourist season on the shores of Atlantic City, after all. But at some point, it becomes time for tradition to give way to evolution.
Is Donald Trump afraid of being president? It would certainly explain his inexplicable behavior in the post-midnight, pre-dawn hours of Friday morning...
Trump backed his personal Titanic up again and again, and tried to just ram through the iceberg, over and over. He was even up early this morning, providing yet another day's legs for this story.
"My name is Chivvaun and I'm so excited to share a little bit of what I know with you today." This is how Chivvaun begins her free dance clinic. All twelve girls have trickled into the dance studio one by one donning their leotards and dance shoes, an apprehensive look in their eyes. They've never been to a dance workshop before and they're not too sure what to expect.
This piece was originally published on Mindthis I'm running late. Maybe five or ten minutes late but it's late enough to make a photographer chew nai...
Tucked away on the small island of Grand Bahama, preparing for the biggest stage of her life is Chivvaun Smith, a young woman who once held the same idealistic gleam in her eye.
Wurtzbach was tested using an Alere Fourth Generation rapid test that used a finger prick to collect the sample.
Positions of authority have a way of inflating people's sense of their own power.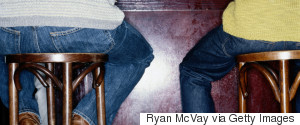 I think being gay, living in the United States and especially in West Hollywood, we tend to take for granted our freedom and forget our brothers and sisters who live in countries where they could be physically harmed for being who they are.