By Megan Zander The other day while my twin four-year-olds were napping, instead of organizing the winter cloth...
At 39, I embody everything I said I would never be. I'm a mom. A stay-at-home mom. A stay-at-home mom who lives in the suburbs. On top of that, ...
I have been thinking a lot about Debbie Reynolds over the last few hours since the death of her daughter, Carrie Fisher, was announced yesterday. ...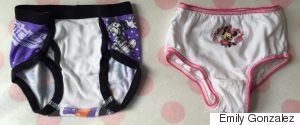 I know some would say, "It's just underwear," and accuse me of overreacting. But that's exactly my point -- it is just underwear. This is the kind of crap (pun) we are looking at with just underwear.
After the holidays, cleaning my office is like an archeological dig. My attempts at organization are evident in research files for two novels, but ...
After having a baby, there are many adjustments to a parents' life. One of them is getting back to work. It's not as simple as just getting ready and ...
On the first day of Christmas my toddler gave to me a broken ornament under the tree. On the second day of Christmas my toddler gave to me two Ninja...