For a parent, there is no greater loss than the passing of a child. That's why Grace Darling Seibold formed Gold Star Mothers after her son died in...
Remember your pre-baby body? The one that could pull all-nighters and sneeze without having to change out underwear? I remember it too, and I miss it immensely.
We have seen the devastation that racism can perpetrate when the hate embedded within it festers in silence at the margins of our society. But where does this sort of racism come from? I don't know that I have the answer, but I do have a particular, firsthand experience that may give some insight into the question.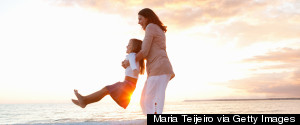 And it's probably A.O.K. with your boss, that you have children. But even if it is not ok with the boss or your colleagues, what is the cost of bending yourself into a pretzel to edit what you share about your kids, your spouse and your life outside the office?
When Matthew Jurgens' mother passed away when he only 2 years old, her last request from Rabbi Pearl was for her son to have his Bar Mitzvah.
As a mom I run a tight-ish ship, have high standards for my small family and am still the impatient type A woman. But when we are alone, I am also much more.
What sane woman would pack up her three kids (7, 5 & 2) with a six-month-pregnant belly to boot and brave a four-week adventure through some twenty-or-so states? Me.