I marched off to the drawer where the office supplies were, grabbed the giant pair of adult scissors and returned to stand directly in front of her. I grabbed a fistful of hair from the crown of my head and chopped it as close to the scalp as I could
Sun City has no idea what's coming, but they better amp up their WiFi, add tattoo artist to their spas and start training their DJs.
I am thankful for the Browns, for their courage to respond to this decision with dignity and grace, calling for people to focus their energy on fighting injustice instead of fighting each other.
There is the ultimate hope that turkey actually has that sleeping ingredient in it and it will magically make our kids Close. Their. Freaking. Eyes.
Her name was Catherine. Her favorite song was "Imagine" by John Lennon. Her favorite color, yellow. She knew the words to just about any song you could name and would sing at the drop of a hat.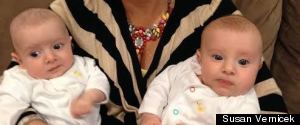 I'm sitting here thinking about how grateful I am for giving natural birth to my set of boy/girl twins. On the other hand, let's get real for all the not-so-grateful moments in new parenthood.
Mom wrote about sitting at the edge of el Rio Cangrejal in Honduras while her Abuelita Tinita slapped their clothes against the rocks. She wrote about when she stole the gallina when she was 10 because she wanted a soup so bad, she didn't think beyond her hunger.